Ollie Wynne-Griffith rows with a singular idea in mind: this day matters.
As an Olympic medallist who won bronze in Tokyo as part of the men's eight, Wynne-Griffith, 27, said the final was in his head for four years.
But for the past year, focus has been on one afternoon on the River Thames, the Boat Race between Oxford and Cambridge.
On Sunday 3 April, he will finally reach that day, the one that matters, as he represents Cambridge for the first time in the most historic race in British rowing.
Having taken up rowing at secondary school, Wynne-Griffith won his first medal in the men's eight at the World Junior Rowing Championships in 2012.
A college athlete at Yale, he joined British Rowing's men's eight in 2018, and has since won two World Championship bronzes, a European silver and three World Cup silvers, a World Cup gold, and Olympic bronze.
But with no reference point, Sunday's race is unexplored territory.
Wynne-Griffith said: "I don't know at all how that day in the Boat Race is going to feel, in terms of the size of the event, the uniqueness of it, the nature of one-on-one racing.
"For me, it's part of the reason I really wanted to come to Cambridge, because you always look for new experiences.
"The Boat Race is up there on any rower's bucket list to compete in and win, so I think it's nice to feel kind of experienced in my career, but also feel like I'm going into a new challenge."
Although a novice, Wynne-Griffith has experienced the race's 166-year-old mythology first-hand, through the experiences of his grandfather, David Christie, who rowed for Cambridge in 1958 and 1959.
Christie fed Wynne-Griffith's competitive streak, ingrained since childhood, by timing his speed running laps around a field at his farmhouse, and Wynne-Griffith remembers seeing the oars from both races, a win and a loss, mounted on the walls.
His great-grandfather, Harold Rickett, also rowed for Cambridge, winning three Boat Races in 1930, 1931, and 1932, and later umpired the race in 1946.
Wynne-Griffith said: "To know that you're going through the same process that a family member, be it 60 or 90 years before, I guess that is inspiring, to know that they were a large part of the reason I originally took up the sport.
"But at the same time, I'm writing my own small slice of history. I think that's something that's great about the boat race. There are so many people that have gone before you, and they will have such interesting and unique stories.
"And you just have to carry the legacy for the time you're in the boathouse, and you're taking the strokes, and then you pass it on to the people that come after you."
Although Wynne-Griffith has teammates who have taken part in the race, 2022 marks the first race on the Tideway since 2019, after 2020's race was cancelled due to COVID, and 2021's was held in Ely, without spectators.
"We're all kind of stepping into the unknown," he added.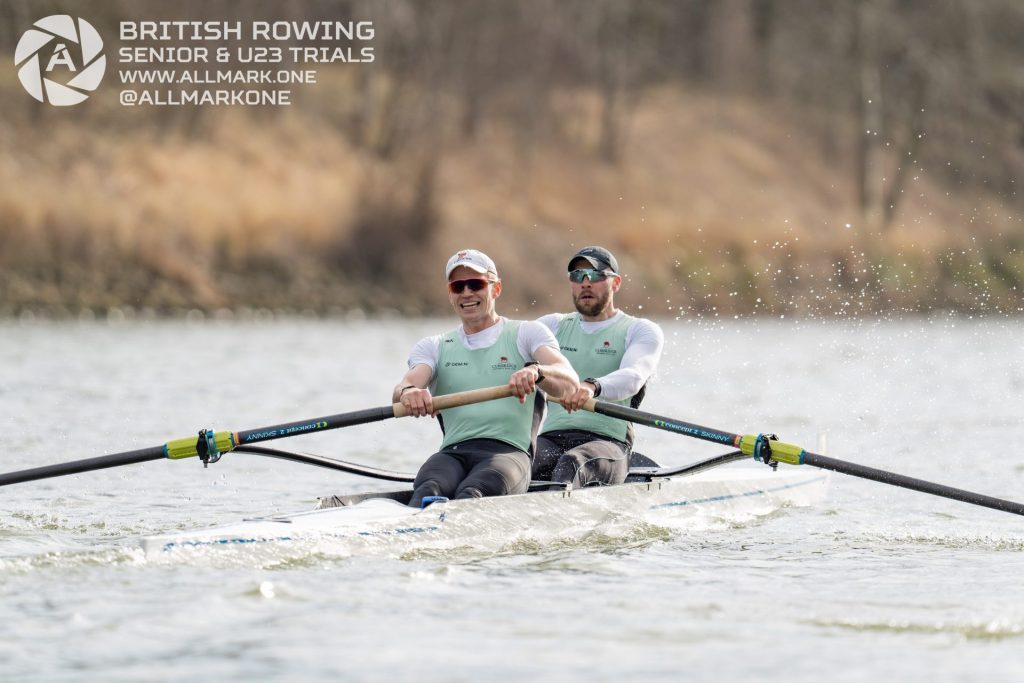 One thing, however, is recurrent in any advice he has been given about race day.
He said: "The same theme that keeps coming through is: you won't be prepared for how much noise there's going to be.
"You won't have been in an atmosphere, certainly with rowing, where you're walking out and there's thousands of people cheering while you're boating, and then you have the quiet of the warm-up."
The quiet will be familiar to some degree, to Wynne-Griffith's experience taking part in the exceptional Olympics of 2021, amidst strict COVID-19 precautions.
He explained: "I remember one of the days, there were quite a few finals and a few semi-finals, and sitting in the athlete rest area before our race, it was deafeningly silent.
"There was no noise of races coming down, no ripple of the crowd as the races came to the finish line and as medals were being won.
"You expect to feel like you're in the guts of the amphitheatre, hearing the crowd, and instead it was deadly silent.
"But it changes when you're on the start line. You're there to do a job, and you realise that it's 10 years of hard work, and you'll perform whether it's your mum and your dog watching you, or there's 100,000 people."
Single-minded focus and an unwavering competitive spirit are large parts of Wynne-Griffith's ethos as an athlete, and this mentality has been shaped by the coaches he has worked with, first John Gearing, at Radley College, then Steve Gladstone at Yale.
He added: "Steve started coaching in 1964, and has won more national championships than anyone has ever won.
"He is very much a leader of men, a real programme and culture creator, the kind of guy that you'd walk across hot coals for if he asked you to, and made you feel invincible on race day. He built quite an aggressive winning mentality within that team that I took a lot from."
In the Team GB set-up, he worked with legendary coach Jürgen Gröbler who, as the Olympic team coach for East Germany, then Great Britain, coached crews to medals at every Olympic Games from 1972 to 2016.
"Jürgen was similar to Steve, in that he made you want to win for him, and deliver for him, and get better for him," Wynne-Griffith said.
"It was awe-inspiring when you're sitting there in a team meeting, and you suddenly realise that the ten-year-old you inside is jumping up and down, thinking 'wow, you're listening to Jürgen talk about your rowing'."
In their current coach, Rob Baker, the Cambridge team are guided by a man who has overseen a light-blue-wash of race results: three consecutive Cambridge victories since his appointment in 2018.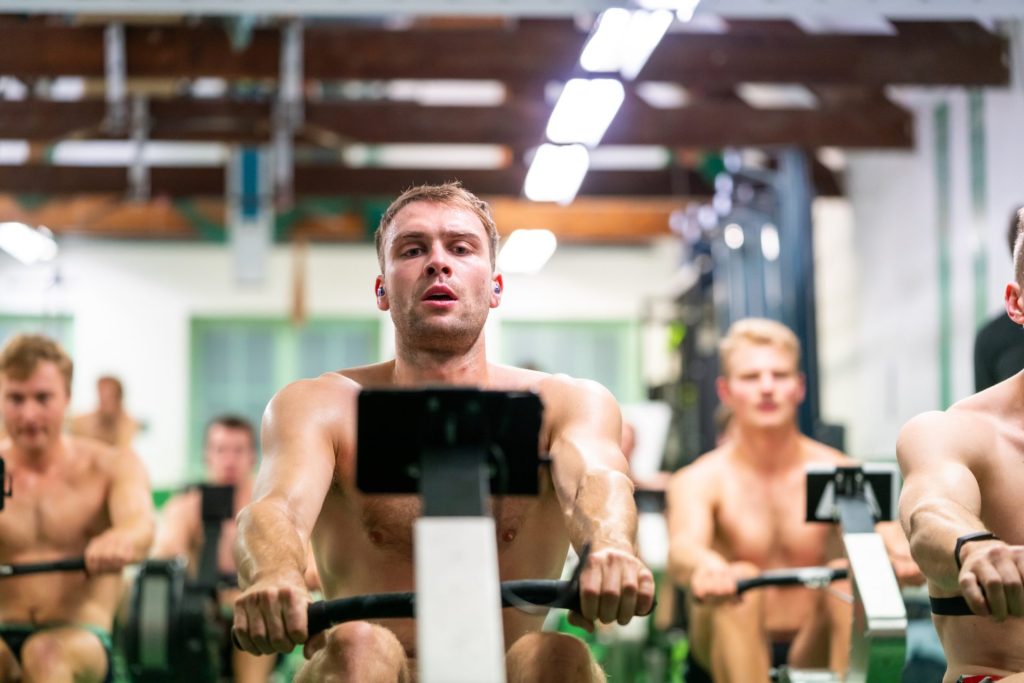 As one of the older members of the team, Wynne-Griffith is conscious that the role between athlete and coach has adapted since his start in the sport.
He said: "I'm very used to going through my rowing education saying, 'yes sir.' Or 'how high should I jump?' You don't question too much, you trust in the process.
"The older you get, the more experience you have in the kind of nuance you build in terms of feeling, and what you want out of the crew. Rob does an awesome job of forging that all together, bringing in guys who are 18 or 19-years-old, whilst also harnessing the experience and the needs of the older guys.
"The team is like the French Foreign Legion. Anyone is welcome, as long as you buy into the ethos of the team, and the team comes first.
"Rob helped open my eyes to that, to develop my way of communicating, whether its bringing the younger athletes on, or not being so old and bitter and miserable in an early morning session, and understanding that you're turning up because you want to be there, because you love it.
"The more ingrained in the national team you get, it can become quite workmanlike. But here, you turn up and all these young kids have loads of energy, and they're jumping around hooting and hollering every single day.
"It makes you feel young again, and reminds you what you were like and why we love the sport."
The week before the race, the boat travelled to Switzerland, training for five days to provide the final moment of bonding for a crew that was only confirmed for the race in mid-February.
Within Team GB, Wynne-Griffith has focused on four-year projects, so the timescale for preparing for the Boat Race – with trial combinations and selections taking place through December and January of this year – could feel disconcertingly short.
He said: "It's more about the quality of what you do, and getting the right people in the right seats. Taking more time to get that right is more important than putting a line up together and grooving it.
"It's balancing having enough time together as a crew to get your speed 100%, but also making sure that you have the right people in the right seats, and the personalities gel the way you want. It's been an exciting challenge.
"We're in the most beautiful location, on an alpine lake in Switzerland. The water is perfect. The mountains are snowcapped around it: the scale of the place is just ridiculous. You're in this small boat – tiny – in a massive lake, and the water is just so clear.
"There's an indescribably feeling when a boat is going well. And the sun's out and the water's flat, and the boat's just chipping along and everyone is in sync, it can be quite meditative."
Moments like this, Wynne-Griffith said, are what made him fall in love with the sport, compared to, for example, waking up at 6.30am, in the driving rain, in Cambridgeshire, when you can't see the man in front of you because the sun won't rise until 8am.
"But those moments are kind of fun as well," he added.
"Everyone's suffering together. Going through an experience shared with people is always going to be something that you look back on as a special feeling. Something that I'll miss when it's finished for me.
"But the fire is still burning to go to Paris. Having an Olympic bronze medal is a really, really special thing. But there's also a moment where you're standing on the podium, and you realise it's not actually your party.
"There's always been something that I can tinker with. I think having that moment where it's like, that's the best I'm ever going to row. That's 100% performance. The moment I have that, I'm out of the sport.
"I'm probably just tormenting myself. But the main thing is, as long as I feel like I'm getting better at the sport, I will keep pushing."
The 2022 Boat Race takes place on Sunday 3 April at 3pm, and will be broadcast on BBC One at 3.23pm
Feature image credit: @nordincatic