Hafza Yusuf is shining a light on Somali culture and bringing communities together through her East London studio.
Yusuf, an artist and textile designer, arrived in East London with her family as a five-year-old refugee from Somalia.
Growing up in the UK, Yusuf felt distant from her culture and wanted to see art around her that she could feel connected to. Quickly she found her passion for textiles at school and went on to study a Bachelor of Arts in Textile Design at university.
Yusuf's love for art and her rich culture became a meaningful way for her to capture the beauty of Somali culture, heritage and preserve their textiles – a once thriving industry largely lost to the civil war.
Ultimately it led to the creation of her art studio, where her designs are delicately hand-drawn and painted, with each piece telling its own visual story of culture and heritage.
Yusuf said: "I really want to be a part of reviving the textile industry. Art is a way that I can share my own story and express myself.
"My studio is a place where I can be free and create artwork that's meaningful and purposeful."
Initially, Yusuf found it difficult to find her space in the industry. Wanting to utilise her skills and talent, she began volunteering at art workshops for her community, finding that art was not only great for engaging young people but older generations too.
So alongside working in her studio, Yusuf still facilitates and engages with community projects alongside other Somali-British organisations based in East London such as Kayd and Women's Inclusive Team (WIT).
Kayd aims to preserve Somali arts and culture, alongside building and expanding on Somali arts projects to provide a platform and space for Somali immigrants and refugees. Since 2009, their flagship event has been its annual Somali Week Festival, taking place in the UK's Black History Month in October each year.
WIT is a Tower Hamlets-based organisation supporting Black and racially minoritised communities through youth programmes, women's empowerment projects, mental health support, a food bank and community kitchen.
Safia Jama MBE is their Chief Executive. She said: "Hafza initially worked with us on a youth project. She created sessions based on the girl's interests and brought Somali culture alive. It was amazing seeing a room full of teenage girls engaged and excited.
She added: "The most valuable achievement, which will leave an unmeasurable mark, was to see someone who looks like them, an artist and a teacher, giving back to her community."
After this project, WIT were able to work with Yusuf again, this time using Somali art to tackle important but sensitive topics. Safia noted that many of the women participating had never been given the space to draw and express themselves through art before.
Safia said: "Truly it's been an honour to work with Hafza. I hope we secure funds to ensure our women and girls have access to Hafza, who is such an incredible asset."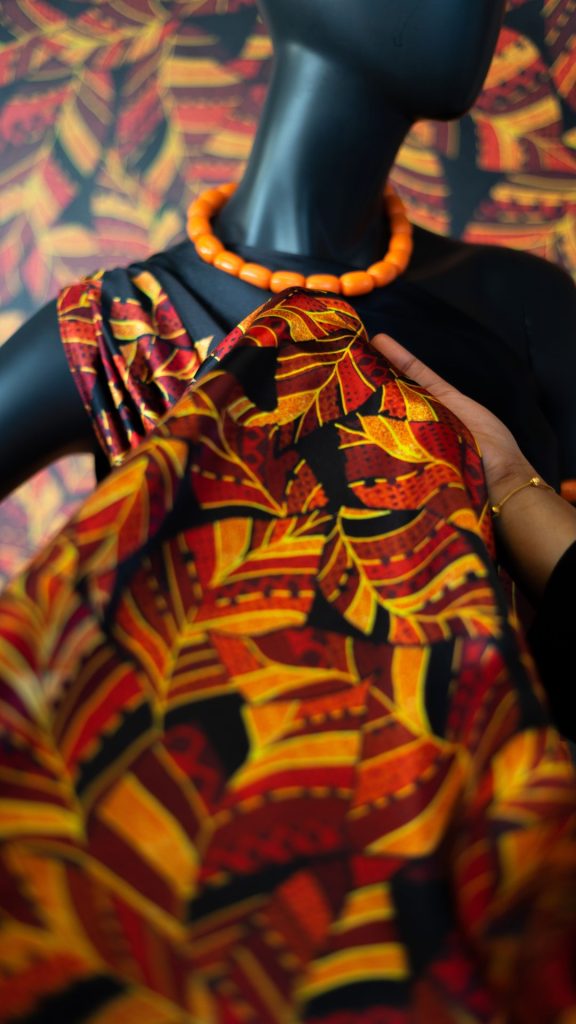 Describing her community as very tight-knit, Yusuf wants to continue giving opportunities to young people that look like her, who might be facing the same challenges that she encountered when she was starting her career.
One of the challenges Yusuf details is not feeling accepted by her peers.
She said: "Unfortunately in this industry people judge you by looking at you and aren't as accepting. But I wasn't afraid to stand out, be myself and I wasn't willing to compromise on my values or what I stand for."
Yusuf also feels that most of the media attention or stories surrounding the Somali community are dominantly negative, which saddens her. Driven to empower and uplift her community, she emphasises the importance of sharing positive and success stories.
During Somali Week 2022, Yusuf hosted her first-ever solo exhibition supported by the Arts Council England. It displayed all three of her textile collections.
Showcasing her bright, beautiful, patterned fabrics at the Art in the Docks Gallery, East London, was a moment she'll treasure forever.
She reflected on the exhibition: "It was beautiful – especially seeing young people connected to and proud of their culture. It showed me the power of art and design in bringing communities together; it was a really proud moment."
One Somali family had travelled for two hours to visit the exhibition after seeing Yusuf's artwork online.
Yusuf said: "I was so inspired – it gives my art so much meaning. It reassured me that there's a purpose and a reason why I'm doing the work that I'm doing."
Featured image credit: Hafza Yusuf