An event championing Black-owned businesses is attracting vendors from New York and Amsterdam and has had more than 200,000 visitors.
Bohemia Place Market has been collaborating with Black Eats LDN, a directory of Black-owned restaurants, over the last three years to produce a vibrant market in the heart of Hackney.
Jackson Mclarty, 30, the founder of Black Eats LDN and the 'Black-owned' Hackney event, explains he set up the event as a result of a stark lack of food businesses owned by black people across London.
He said: "For so many years, there were very few options when going out looking for Afro-Caribbean food."
The "neglect" of food from Black culture in mainstream media was one of his motivations for the concept of Black Eats LDN and the market.
Mclarty said he launched his platform in August 2020 after lockdown in order to boost Black-owned businesses who had struggled as a result of the pandemic and to create an opportunity for people to enjoy different cuisines from the Afro-Caribbean community.
There has been growing exposure across the city for people to try different Afro-Caribbean food.
He said: "People have discovered there's more to Black food than jerk chicken."
The collaboration with Bohemia Place Market began in July 2021 and Mclarty says he quickly realised there was a huge demand for an event where different communities in London could come together and celebrate black-owned businesses.
Since its inception two years ago, the event has hosted over 500 different independent businesses and more than 200,000 people have visited the market.
Black Eats LDN has also grown enormously in such a short period, with the company having more than 67,000 followers on Instagram, and has brand partners including Apple, Uber and Bacardi.
Mclarty also highlighted an article by Vice, which stated that in 2019, only two of the 328 restaurants reviewed by UK national newspapers were Black-owned.
He claimed there has been a noticeable change in the food scene in London because of the 'Black-owned' initiative, pointing to TimeOut's Chef of the Year 2022 Adejoké Bakare who owns a West African restaurant.
The event also has several success stories as a result of the exposure it has created for businesses.
Sauce brand Lesley's Sauces was a business regularly trading at the market and the product is now sold in stores like Wholefoods.
He claims the event has grown from a small presence in Hackney to the whole of London – and has even drawn attention from across the UK and overseas.
The event has attracted vendors from overseas Black-owned businesses to come to the market, including international traders from Amsterdam and New York.
Mclarty said that consumers also come from abroad to experience the event, with people flying in from as far as Malaysia and the US.
There is a huge variety of businesses at the event, ranging from artisan goods to Black literature campaigners.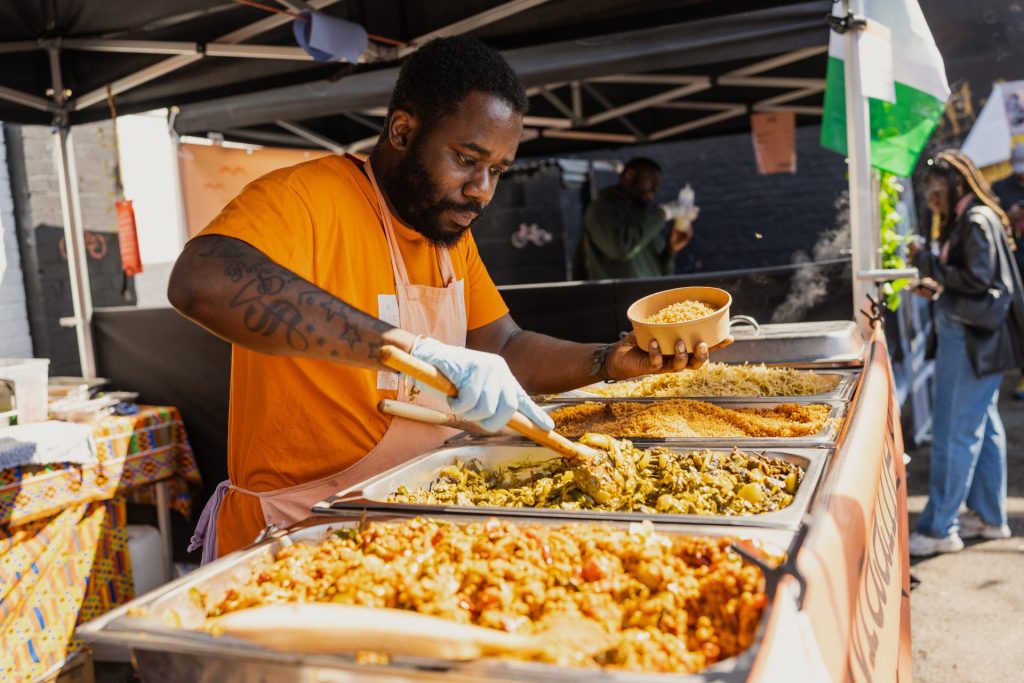 The food businesses have impressive innovation from their chefs.
There are traditional dishes from Afro-Caribbean countries, with a large amount of vegan options.
You can also try unique food combinations, with fusion dishes from around the world, such as West African burritos and Caribbean-inspired fish and chips.
The next and final event for 'Black-owned' at Bohemia Place Market this year is next month, running from 5-8 October.
This will be another important event in championing the importance of Black-owned business, and celebrating the achievements of those in the community.
Mclarty said: "The event is now a staple in UK Black culture."
Featured Image Credit: Black Eats LDN