My hands are sticky from my third roasted peach and lemongrass cocktail, there's someone in a red bee costume cutting shapes on the packed dance floor, I'm eating raging hot honey and caramel tater tots. This is the most recent event by the Michelin-background chef, Whyte Rushen.
"I don't think you'll be seeing me on any mid-morning cooking shows anytime soon," he replies when I ask him if this is the start of his mainstream debut.
Whyte, a big, bearded guy with paws for hands, tattoos for arms and a smile for a face, has been stirring up the food world since he started slinging cheeseburgers to celebrities from his flat during lockdown and hosting pop-ups where he paired oysters with pickled onion flavoured Monster Munch.
It's a dish that has now become synonymous with the acclaimed chef, representing his signature expression of North-London authenticity married with gourmet flair, 'Equal parts elegant and trash' he once described a tasting menu he served at Jeremy Lee's historic Soho restaurant Quo Vadis.
Try and get a ticket to one of his events (which have seen jellyfish salad served out of Chinatown institution Tao Tao Ju, frog leg kievs at a pop-up with Rogues London, and Wagyu tongue at Jackson Boxer's bar Below Stone Nest) and you might find yourself running around London looking for one of his signature graffiti stickers that bag you a space.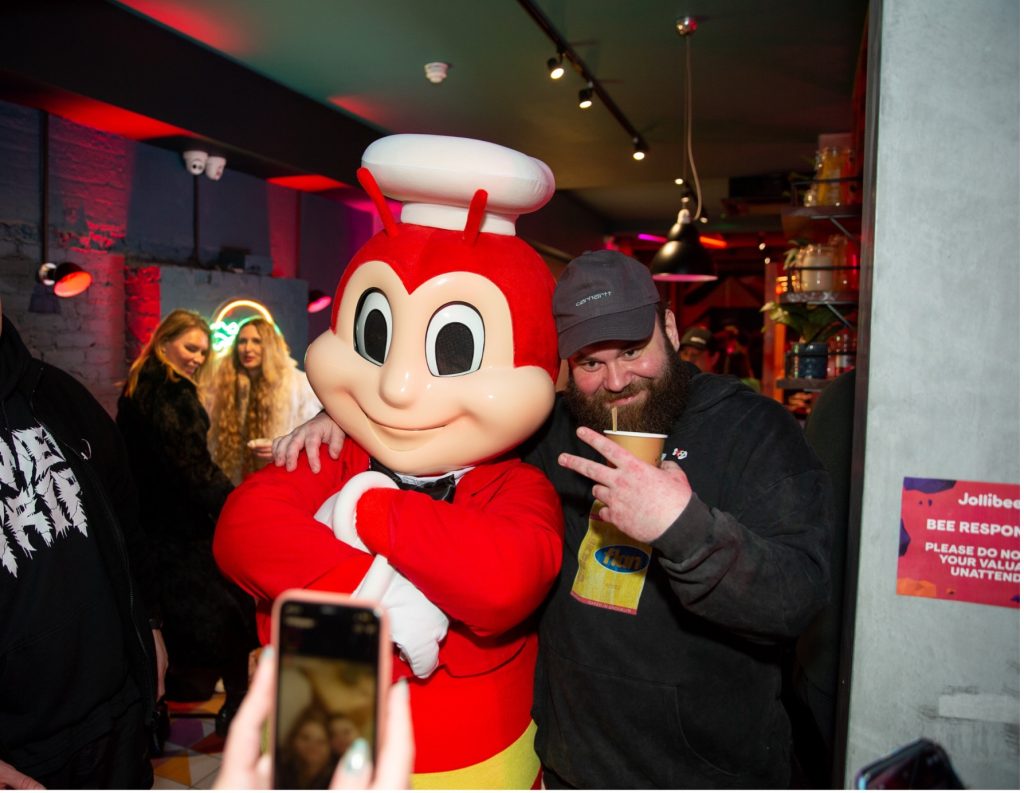 Tonight, that sticker is wrapped around the pot of sauce I get busy dunking into. It's part of the meal deal being dished out on the second floor of the Leicester Square branch of Filipino fast-food chain, Jollibee, Whyte's most recent collaborator, and biggest so far.
During the week leading up to the launch event, Whyte tells me: "It's definitely a wild milestone for me, a massive moment, but as big as Jollibee is, I still feel like it has more of a cult following, more of an 'if you know you know' kind of vibe.
"Plus, the food is just really f****** tasty man and that's what I'm about."
The newly launched meal deal features Jollibee's spicy chicken sandwich and Whyte's tater tots, plus a smoked chilli riff on Whyte's time-tested burger sauce, crispy fried onions and a spring onion salad.
That smoked chilli burger sauce smacks with mustard and brine, the savoury chilli maturing it all. It's the counter to the sweet tater tots, which are fatty, crispy and slick with hot honey and caramel. The Jollibee burger too, though less exciting in its composition, is about as good as a fast-food chicken burger gets.
He writes: "I don't really pay massive attention to what's going on culinarily (…) I think being uninfluenced in that sense by what people are doing might be a good thing, let's you just do you, develop your own style and be creative."
Whyte's background as a professional chef goes back years, with notable seasons at Scully St James, Kerridge's and the Michelin starred Brat, which recently spring-boarded the career of superstar chef, Thomas Straker – now of Straker's.
With his own rapidly growing following on Instagram, Whyte makes sure I know that a restaurant is where all this is headed for him too: "I never intended to "do" Instagram or anything like that, as fun as it is, it kinda just happened, I'm just a chef with a bit of a social media following that's all.
"I see social media mainly as being a great tool and vehicle to make the world aware of the restaurant when it eventually comes, it's been a big stepping stone to getting me to start to feel like I can see the end of the tunnel.
"I still think I'm yet to show everyone what I can really do."
Whyte's inspirations include his friends at Rogues, who themselves started in pop-ups before building their restaurant, chef Anthony Bourdain, comedian Theo Von, Jackass star Johnny Knoxville and significantly, his own father.
"The stuff I've seen that man go through in his life, most people I don't think would be able to hack. He installed a terminator spirit in me, we just won't ever stop, moving, trying, fighting, bouncing back, hustling. Hold tight big Tony."
Back to Saturday evening, everyone's fed (and hydrated thanks to drinks from Four Cats bar), Whyte's behind the DJ decks with his hood up and the venue is going off. The fast-food dancefloor is a pumping blend of influencers, models, foodies and industry vets, all sending it to some disco-house beats cooked up by dubstep pioneer and DJ for the evening, Skream.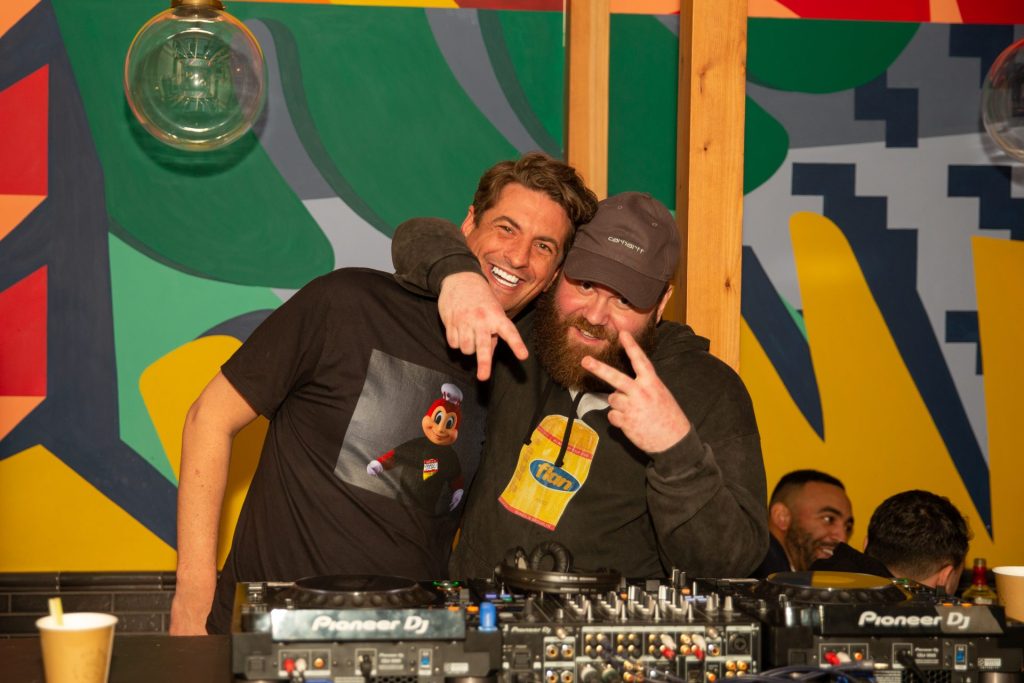 It delivered on the 'organised chaos' Whyte promised me in the days leading up to the event and gave a glance into the community that will one day fill the tables in his restaurant. But, just for as long as that place doesn't exist, you can try and get a ticket for his next event, a taco cook-off against Michael Bagnall of Dudley's.
"The menu is off key, and I'm pretty sure it'll be carnage, them ones get a bit rowdy – there's something about tacos that brings out the beast in people. It's cool."
To keep up with Whyte's events and read more about his life as a chef, follow him on Instagram at: @whyte_rushen
Featured image courtesy of Lame Ltd