Walking into the new eggslut in Stratford, I had an uncomfortable first impression: I greatly overestimated the sluttiness of the clientele.
Head held high and hands attempting to pull my skirt somewhere closer to knee-length, I bravely carried on, travelling to my table and basking under the yellow-green light of the 'eggslut' neon sign. 
I was vaguely familiar with the cult restaurant, having been occasionally turned away from the Notting Hill, Fitzrovia, and Shoreditch locations due to a lack of seating available (but who has the power now, eggslut??).
This is not a problem likely to occur at the Stratford branch; with a seating capacity of 90 including the outdoor terrace, this is the biggest eggslut location in the UK, complete with an evening menu and a 10pm closing time to boot.
But onto the food.
My first eggsploration into the all-day breakfast menu involved a dalliance with the new sandwich eggsclusive to the Stratford location: the Pork Romesco.
Featuring slow-cooked pork belly, egg, romesco sauce and rocket in a brioche bun, the sandwich was a well-balanced mix of flavours, the slight spice nicely cutting through the more dense egg and bun.
This bad boy was absolutely dripping in sauce, which in addition to being tasty also upped the slutty factor of the restaurant.
I saw multiple middle-aged women licking their forearms, if that's your thing. 
Next on the menu was the Fairfax, described as "a classic" by our waiter, who was handsome in a way that would make me nervous about coming in there hungover.
If he's reading this, I would follow you to war. It likely wouldn't end well for me considering I didn't immensely enjoy the Fairfax, but whatever.
Hey, guys? This sandwich was wet.
Packed full of a single hen's lifetime production of scrambled eggs, cheddar cheese, caramelised onions, and sriracha mayo, I spent every bite of this admittedly-yummy sandwich convinced I was consuming all of the eggs I was allocated to consume in my lifetime.
They could have halved the amount of eggs in this thing and it still would have made the perfect gift for someone who loves scrambled eggs and cheese more than anyone you've ever met in your life.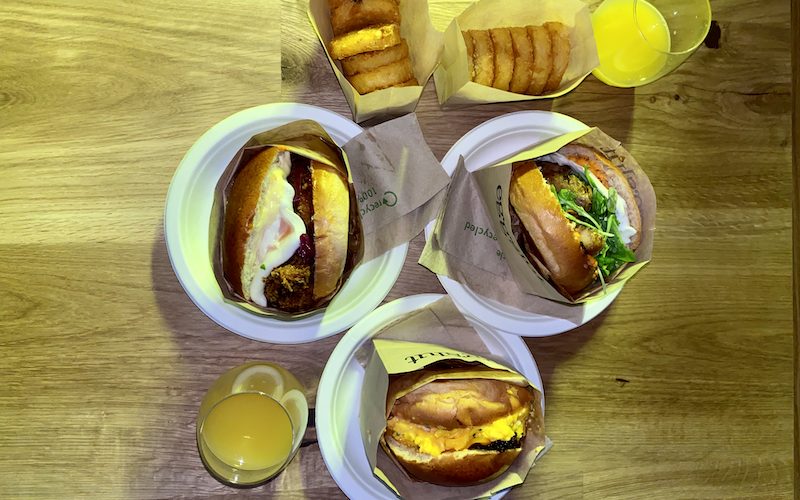 My friend and I next took a small break with one of the only non-egg-centric things on the menu: the truffle hashbrowns.
I want you to imagine me leaning in towards you, making strong eye-contact, and whispering incredibly seriously when I say this: when I die, I want to be buried under a mountain of truffle hashbrowns.
I want to be laid to rest in an eggslut, consumed by potato, duck fat, truffle, and rosemary salt. These were crispy, salty, and perfectly greasy – a truly perfect hashbrown.
I may take the Overground to Stratford specifically to purchase 15 orders of these and eat them successively, achieving nirvana as the good-looking waiter blesses me with his presence.
Then there was another sandwich.
That transition doesn't actually represent the enthusiasm this item deserves.
Then there was another sandwich!!
Specifically, the Spicy Chicken Sando, consisting of spicy fried chicken, sriracha, pickled cabbage, egg, and mayonnaise.
This was my friend and I's favourite sandwich of the evening, and the one which seemed to best utilise the egg addition, modestly including but a single over-medium egg, unlike the Fairfax, and expertly balancing the flavour and texture against the crispy spicy chicken.
There was also a consistency to the distribution of the ingredients here that was genuinely impressive; each bite seemed to contain the perfect amount of chicken, egg, cabbage, and sauces.
Had this been the waiter's recommendation, I would have trusted him so entirely that I would have proposed marriage.
The final main of the evening was eggslut's signature, the Slut.
Sandwich haters, rejoice; this dish consists of a glass jar filled with coddled egg and potato puree, complete with toasted slices of baguette for all your dipping needs.
In the Slut's defence, I believe I am possibly too neurodivergent to properly appreciate it in all its glory.
The combination of coddled egg and potato, while delicious, was evidently not meant for people like myself who cannot handle two similar-but-slightly-different textures simultaneously.
I do not hold the Slut responsible for this, and would highly recommend it to anyone not similarly inclined.
Unfortunately, the combination of an unsavoury texture and adding another egg to the 80,000 stewing in my stomach sent me into a deep melancholy, which followed me through the eggsit all the way home.
I dreamt that night of increasingly slutty eggs, mockingly asking me if I, too, needed to be coddled.