Local residents believe Tower Hamlets council felt increased pressure to resolve the refuse worker strike after Newham council avoided industrial action.
Tower Hamlets council and striking Unite refuse workers reached an agreement on September 26 to revolve the bin strike, which had been ongoing since September 18.
The deal was reached mere hours after news broke that Newham Council had successfully negotiated with Unite to avoid a refuse worker strike.
A statement issued at the time from Unite general secretary, Sharon Graham said: "It just goes to show what workers can achieve when supported with the full force of their union, Unite, and a council that is prepared to listen.
"This is a clear message to Tower Hamlets that the council has the power to end the ongoing strike."
Tower Hamlets council had previously claimed they were unable to negotiate the dispute at a local level, a statement disputed by Unite and disproved by Newham council.
Tower Hamlets residents took to social media to vent their frustration over Tower Hamlets council's failure to resolve the strike after learning of Newham's example.
Tower Hamlets Mayor @LutfurRahmanTH must act right away on this Waste Emergency! @TowerHamletsNow needs to reach an agreement with @unitetheunion ASAP to avoid further disruption and damage.

Why can't Tower Hamlets Council do what Newham Council can?! https://t.co/AvI4eTVjbl pic.twitter.com/k2JaqVCCb5

— Hamim Chowdhury (@HqmimTH) September 22, 2023
Great work by Newham council and mayor @rokhsanafiaz , Can you lend us a hand in Tower Hamlets, as we are living in a massive dump site at the moment. https://t.co/BXI33gpbkW

— Tarik Khan (@Tarikahmedkhan) September 22, 2023
Tower Hamlets resident Charles Allen, 59, said: "[Tower Hamlets council] would've kept ignoring the problem for weeks.
"Newham embarrassed them by doing what they said couldn't be done- that's the only reason this got resolved."
Unite regional officer Nick West, 29, believes Tower Hamlets Council's decision to reach an agreement could have been influenced by public pressure following Newham's decision.
"Newham proved to Tower Hamlets that settling locally was not only possible but the pragmatic decision to make," West said.
He added: "On one hand, the announcement of that deal may have given the Council that nudge to solve the dispute in Tower Hamlets.
"But on the other hand you could also argue that the strength of the strike action in Tower Hamlets proved to Newham the strength Unite has in local authorities and it wasn't worth trying to withstand the disruption."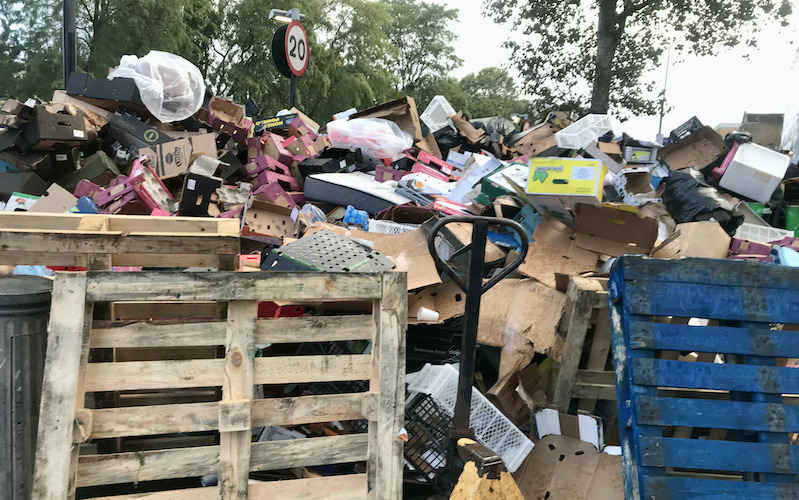 The deal secured refuse workers an additional £750 on top of the national pay offer of a flat rate pay increase of £1,925, as well as agreeing an additional 50 workers will be brought in house by the end of December.
The additional pay offer is the same sum Newham Council announced it had agreed to pay their refuse workers.
Tower Hamlets refuse workers returned to work on September 27, supported by private contractors hired by the council last week to clean up waste which accumulated during the strike period.
Representatives from Tower Hamlets council did not respond to a request for comment.