"That was a huge setback for us, the cyberattacks."
Hackney councillor Caroline Woodley, 52, still sounded upbeat as she recalled the vicious cyberattack on the council in October 2020.
The hacker leaked personal information online and reportedly cost the council £12.2 million to fix over the span of a year.
While the cyberattack made national news, Hackney Council lost all their data on local trees.
Officially, they no longer existed.
If you walked down an average street, Hackney was a new Eden thanks to the council's expansive tree planting project.
If you looked on an online map of all the trees in London, it was a desert.
In short, Hackney became a borough of ghost trees.
Reviving the ghost trees
It took their lead arboriculturist six months to piece together all the data they had lost, foraging through hard drives for any digital trace of the greenery around them.
Woodley explained all of this without losing any of her chipper, cheerful tone.
But throughout our conversation, it became clear her positivity could shine through anything.
Caroline became part of Hackney Council's cabinet in March 2020 and within weeks of her promotion, the first coronavirus lockdown had emptied offices across the country.
In October, the cyberattack hit.
"I honestly feel like 2020 to 2022 was one long day," she joked.
A lot was achieved in that one long day.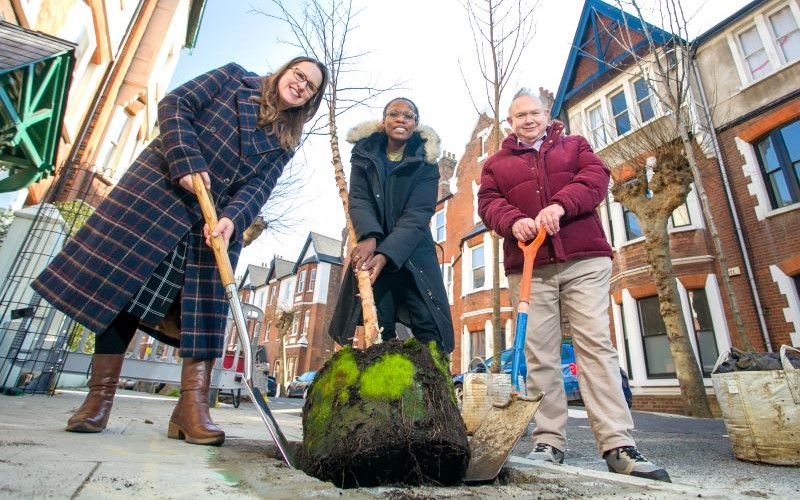 After the painstaking process of piecing together their lost data, Hackney Council launched an interactive map of 45,000 trees in the borough.
The map, which includes 5,000 newly-planted street trees and 10,000 newly-planted park trees, lists everything from the tree's age to its common name.
The council believes their efforts will increase Hackney's on-street tree coverage from 20% to 30%.
Caroline hopes these efforts will help reduce the impact of air pollution.
She added: "You can taste it. You can feel it when you're on really dirty roads. Of course, the trees are there in mitigation."
Smiling through the downpour
After all these achievements, Hackney Council is not done.
Caroline said they might add QR codes to some trees, so anyone with a phone and an interest could scan it to find out more about its history.
The QR codes may even be used to link to tree trails for anyone looking for a new walking route.
After technology had been used to effectively erase Hackney trees, now technology could be used to celebrate them.
Having survived a pandemic and a cyberattack without losing focus, Caroline even felt grateful for this year's damp spring.
She explained it was perfect weather for nurturing the new saplings.
While many of us were left disappointed by endless April showers, I imagined Caroline smiling through another downpour.
You can view Hackney Council's new tree map online.
Featured image copyright: Gary Manhine / Hackney Council