More needs to be done to financially support Black poets, an international writer has claimed.
Theresa Lola, a British-Nigerian poet and writer said not enough is done to help Black poets grow within the field.
Lola's comments came following her performance at a speakers' corner in Canary Wharf aiming to give a platform to young inspiring Black poets across the capital.
She said: "When it comes to performing, there are a lot of spaces but poetry is very vast and it's not just about performing.
"When you think about investing in the arts and diversification in publishing, you can see how changes need to be done. Hopefully, in a decade loads more things change."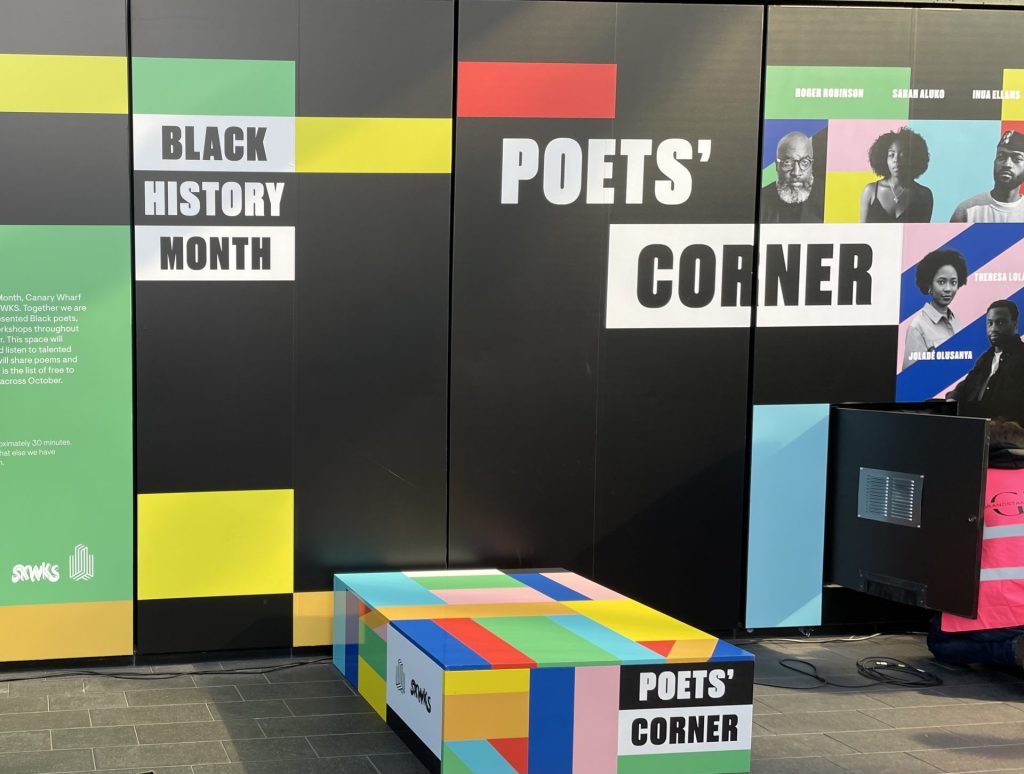 Now steps are being taken to add diverse poetry into OCR English literature exams including Lola's 'Equilibrium'.
She added: "Black people have different lenses so I think those kinds of things starting from school will show them the different ways that they can express themselves.
"A lot of times we would study Black poets but it was all about slaves. And this is valid but it's good to see a range of work that Black poets can create."
'Poets Corner' was launched in honour of Black History Month, with four weeks of performances from spoken word artists around the world.
It is the latest effort from Canary Wharf to create spaces for diverse audiences, in collaboration with the creative collective SXWKS.
People from across London came in attendance to watch Lola and Innua Ellams, with some audience members coming up on stage to perform their very own poems.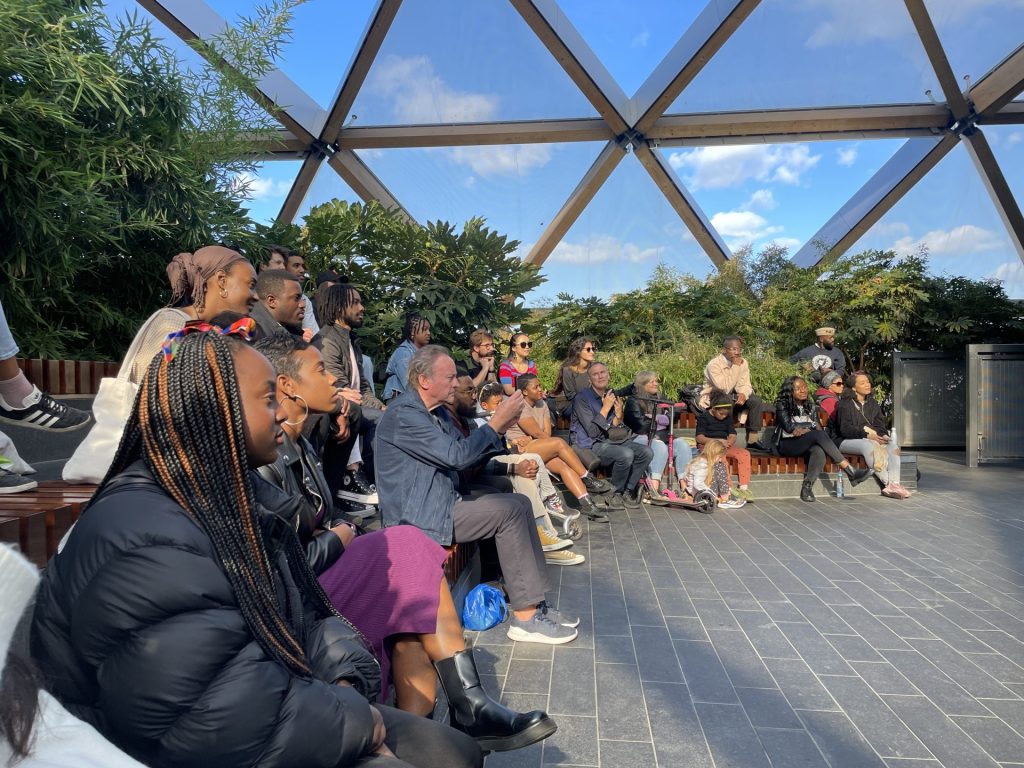 One poem performed by Lola particularly caught the attention of many in attendance.
The poem described her decision to change her name from her Yoruba name Funmi to Theresa – a decision spurred on by relentless bullying during secondary school.
She said: "I think mispronouncing someone's name and continually doing that shows a lack of respect for them and their culture.
"It's a power dynamic being able to name something. When you mispronounce someone's name, you're giving yourself authority over them."
Lola said her decision worked out in her favour.
She added: "I just got tired of having to tell the teacher beforehand how to spell my name.
"But I don't regret it because my closest friends still call me by my Nigerian name. I decided that those who mattered to me would call me by that name."
Anna-Marie Descartes, 28, came along to catch a glimpse of all the performances.
The presenter enjoyed the chance to hear from underrepresented Black poets, but hoped events like this could continue all year round.
She said: "I don't read poetry but it was great to hear the words and see the writers themselves in person.
"This should be done more often, not just in Black History Month but it's a great start and it has exposed me to poets and poems that I wouldn't have checked out on my own accord."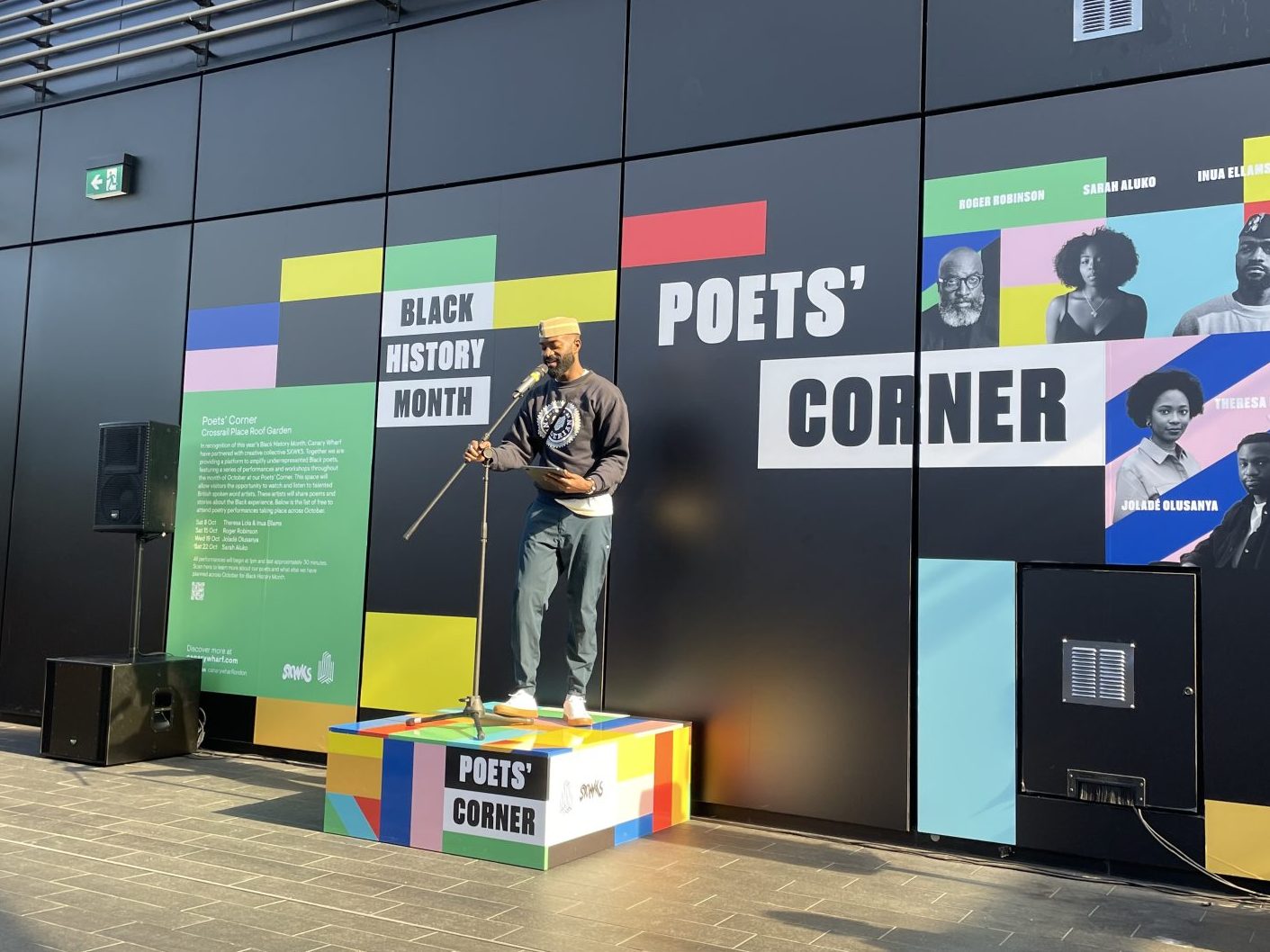 Camilla McGregor, Events Manager at Canary Wharf Group said: "The Poets' Corner at Canary Wharf is part of our continued efforts to amplify Black voices. 
"Collaborating with partners like SXWKS enables us to engage with talented poets, authors and spoken word artists, giving us the opportunity to engage with new audiences. 
"The goal of this project and the wider Canary Wharf event programme is to shine a spotlight on often underrepresented voices and create events that are representative of our diverse audience." 
The events continue to take place from 1pm on the 19 and 22 of October at the Crossrail Place Roof Garden in Canary Wharf.
To find out more, click here.
Featured image credit: Florence Freeman