Local councils across north east London are marking Black History Month through talks, performances and cultural events throughout October. 
Recognised internationally, Black History Month is the annual celebration of the role and history of the African diaspora.
A range of events are taking place across Tower Hamlets, Hackney, Newham, Redbridge, Barking and Dagenham to mark the occasion.
Tower Hamlets
There are a myriad of events celebrating Black History Month across Tower Hamlets throughout the month.
On 12 October, an art exhibition focusing on emerging Black artists will launch, showcasing everything from photography and film to sculptures and illustration, which will take place at Acrylicize's new London Studio, The Art House.
There will also be a workshop focusing on amplifying youth voices targeted at teenagers in the area.
The event will be held on 15 October and will explore how the theme of 'Time for Change: Actions not Words' transpires on an individual level.
The Mayor of Tower Hamlets, Lutfur Rahman, said: "Diverse communities help shape our exciting and vibrant borough, and Black History Month provides a chance to discover amazing stories and histories that are often overlooked.
"It is also a brilliant catalyst for coming together and reconnecting after the isolation of Covid lockdowns."
This Sunday will see a Clash of the Titans-esqué 'Africa vs Caribbean' comedy show in Bethnal Green with tickets at £22.15.
Hackney
There are also two large cultural events in Hackney over the next month.
On 20 October, Professor Hakim Adi, an expert in the histories of African and Caribbean people in Britain, will hold a Q&A session as he launches his latest book.
The talk will be held at the School of Education and Communities at the University of East London from 7:30pm.
Two days later on 22 October, the UK Black Business Show, a corporate event highlighting the achievements and contributions of black organisations, will take place at the Business Design Centre.
The event will include deep-dive workshops, business exhibitions and panels delivered by industry-leading professionals.
Newham
Also on 22 October, there will be fashion shows, exhibitions and workshops taking place in Newham.
The Black British Fashion Festival, presented by Caramel Rock at the Good Hotel London, will showcase the relationships between fashion, the media and identities within the Afro Caribbean diaspora.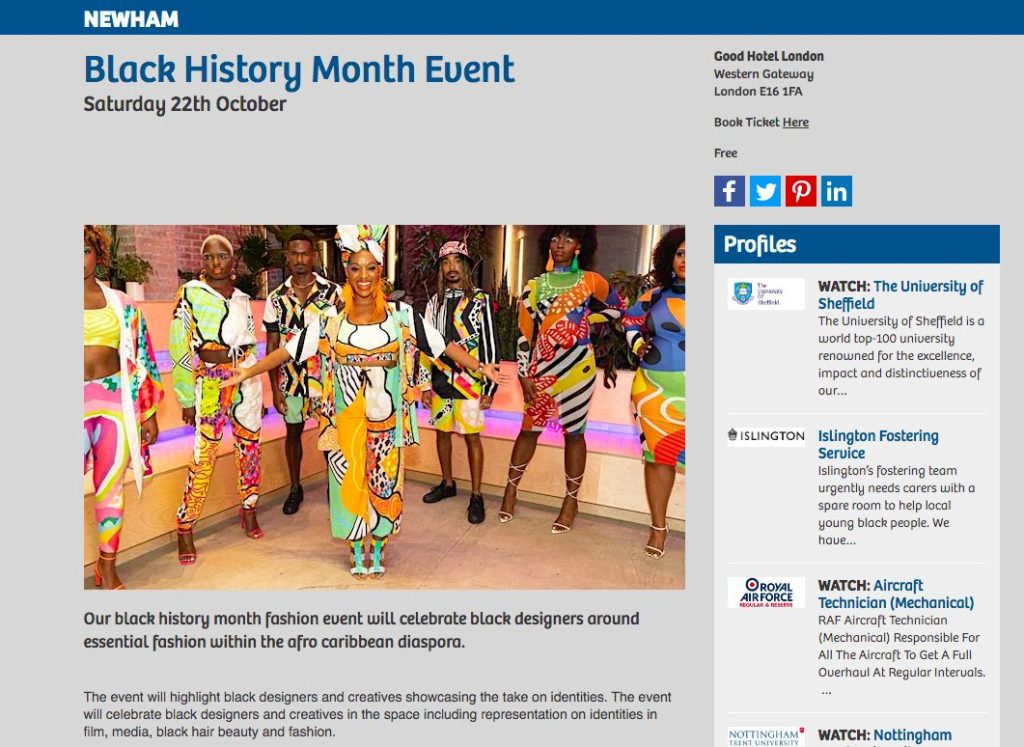 Redbridge
In Redbridge on 29 October, there will be a presentation examining the history of the civil rights movement in a British context.
The address promises to discuss the names and achievements of those who have 'fought against British racism over the last 400 years' and will take place in Redbridge Central Library and Museum.
Barking and Dagenham
Darren Rodwell, Leader of Barking and Dagenham Council, highlighted the importance of Black History Month in a recent YouTube video.
Rodwell said: "We can celebrate the different parts of our Black, African, Caribbean communities and what they have done."
For more information on Barking and Dagenham's events you can visit the council's website or attend online.
Black History Month UK is celebrating generational histories by asking its followers to share pictures with their families and highlight the traditions they maintain.
Further information can be found on individual council websites and on the Black History Month website.