Trumpets, fanfares and 41-gun salutes, for a country that prides itself on its quiet unshowy reverence, this made quite the noise.
In gilded scenes of pomp and circumstance, ritual and pageantry, remembered only in sepia-tinted photos from seven decades ago, Charles III was formally declared King during an Accession Council ceremony at St James's Palace.
As the country mourns its Forever Queen, this centuries old ritual underlined why 'The Firm' never puts up the closed sign, the business of the nation grinding relentlessly on, as it should.
You didn't need to understand this complex and arcane rite of nation to realise its significance, as oath followed proclamations, in a sombre yet hopeful nod to what's next, while the nation simultaneously mourns what's gone.
Prince Charles automatically became King Charles following the death of his mother but this ceremony – televised for the first time – is a convoluted constitutional formality required to formally recognise his sovereignty.
The council was attended by 200 privy councillors, including the prime minister, members of the cabinet and shadow cabinet, Archbishops, representatives of Commonwealth realms, and other senior public figures.
The King was accompanied by Camilla, his Queen Consort, and Prince William, the new Prince of Wales.
Traditionally all privy councillors – lifetime positions awarded to mostly past and present politicians – attended but with that number currently 700, only a chosen few were summoned.
The meeting was held in the state apartments of St James's Palace – for many years Charles's London residence – and was divided into two parts.
Proceedings began without the new King present, with Penny Mourdant, only this week confirmed as the new Lord President, presiding and a clerk reading the 219 words of the Accession Proclamation, ending with the refrain that still seems so alien, 'God Save the King'.
What followed was a flurry of seemingly archaic paperwork – a platform of politicians, clergy and aristocracy, with a soup of honorific titles like the Lord Privy Seal and Lord Great Chamberlain, inking their names to this formal transfer of sovereignty.
The new King, waiting in the adjacent throne room, then made his personal declaration and read a 116-word oath relating to the security of the Church in Scotland, first taken by George I in 1714.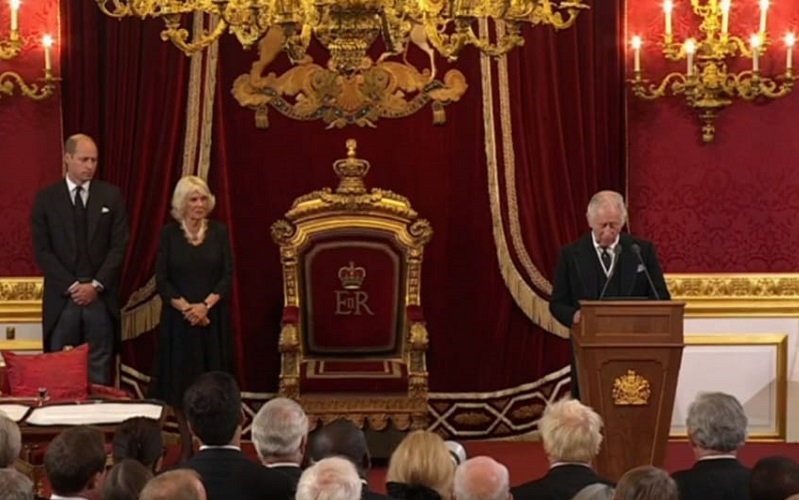 "It is my most sorrowful duty to announce the death of my beloved mother the Queen, I know how deeply the whole world sympathises with me in the irreparable loss we've all suffered," he said.
"My mother gave an example of lifelong love and of selfless service, her reign was unequalled in its duration, dedication and devotion.
"Even as we grieve, we give thanks for this most faithful life. I am deeply aware of this deep inheritance and of the grave duties and responsibilities which are now passed to me.
"I shall strive to follow the inspiring example I've been set in uphold contest government.
"I know I shall be upheld by the affections and loyalty of the peoples who's sovereign I've been called upon to be. In all this I'm profoundly encouraged by the constant support of my beloved wife."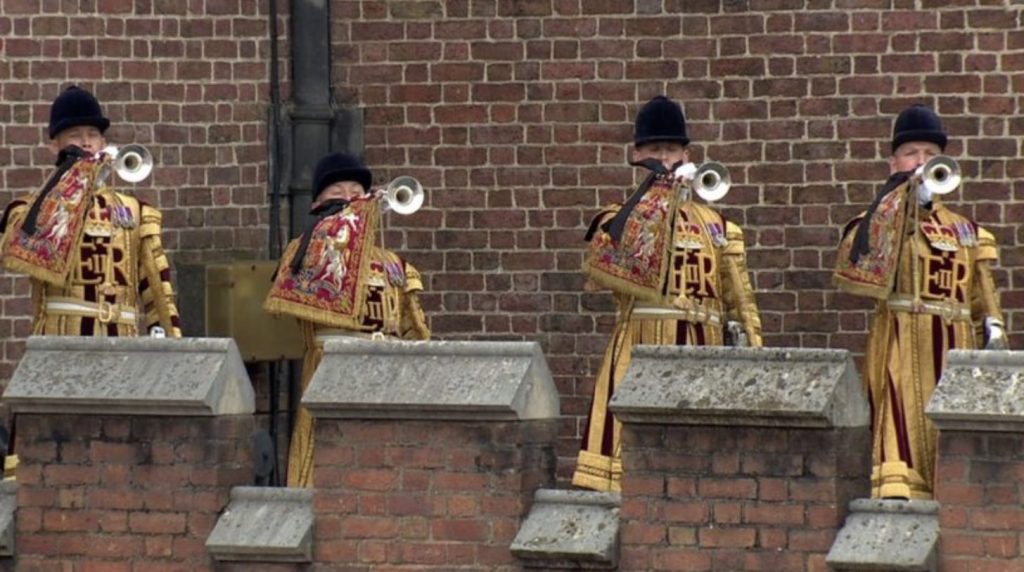 Trumpeteers from the Life Guards trilled their fanfare and proceedings were formalised by the realm's most senior herald, the garter king of arms, reading from the balcony above Friary Court in the palace grounds, as hundreds of members of the public, who had patiently queued to witness history, watched on.
It was all a bit baffling for a Brit, let alone the watching world, but in times like these there can be comfort in the sometimes oppressive shackles of tradition.