Charity Prince's Trust organised a series of Afro-Caribbean cuisine cooking classes as part of Black History Month in Tottenham.
Hosted by Blooming Scent Café, the classes attracted young people from across the capital with the goal not only to give them essential knowledge but most importantly to widen their future career prospects. 
The initiative was run by Blooming Scent owner and Prince's Trust alumni Gina Moffatt on 2-13 October.
The course finished with all the participants getting a certificate of completion handed to them by the Mayor of Haringey, Lester Buxton.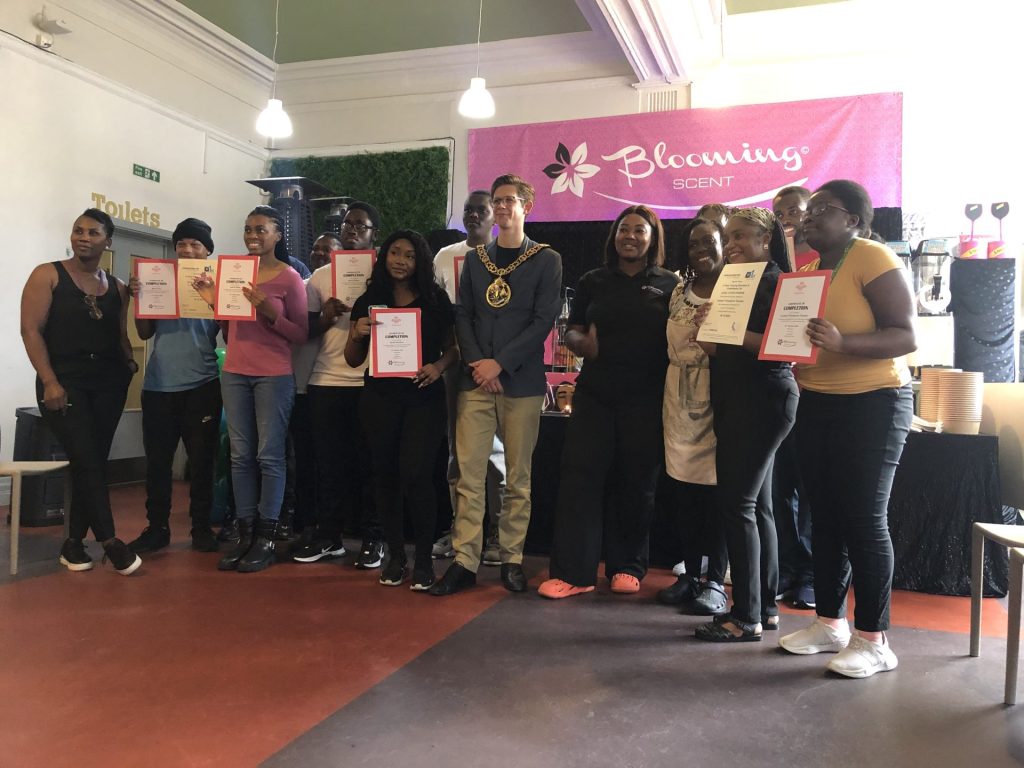 Taz Adia, Youth Development Lead at the Prince's Trust said: "We chose to celebrate the Black History month by organising cooking classes because everyone loves Afro-Caribbean food such as jerk chicken, rice and peas.
"We also chose Tottenham to host it because, in the last 20 to 30 years it's been home to a very deprived community in London.
"We thought it would be the best place and in terms of demographics, the black ethnic minority lives mostly in and around Tottenham."
Some of the young participants saw their future prospects changed dramatically after completing the course.
Four of them are now part time chefs working with Moffatt on events, and some of them having job interviews coming up. 
Marvin Adu, a 22 year-old participant, shared that he hopes to get a full time job as a chef and open his own restaurant in the future.
He also added: "I've just enjoyed this past week, working with everyone. It's been a pleasure to work with the staff and the students."
The challenge
Moffatt explained, as part of the course its participants also had a chance to get a taste of how to run a successful business.
They were tasked with organising an affordable meal day for the Tottenham residents and those working there.
They made and distributed flyers to bring people in, to, as they called it "Trust Cafe", they came up with their own slogans: Trust the Food and Trust the Process, they worked on the menu, did shopping, cooked and served a line of customers which queued outside of the shop.
It was so popular and well advertised that young chefs ran out of food and had to cook on the spot.
Their customers came back for more the next day. 
Moffatt recalled: "They had a great community support, everyone wanted to come and see what this 'Trust Cafe' was."
Positive story within a positive story
Moffatt added: "My own journey with the trust started over about 13 years ago. I was in a low place, I was in prison, I didn't know where I was heading.
"But then the Prince's Trust came to do a course while I was in prison and they said what I would like to do when I get out.
"I wanted to start a business and they helped me do that when I came out and they've been with me since.
"With the trust it's not just being a part of an organisation, it's like being a part of a family.
"Since the Trust came into my life, it has been like a fairytale. It's all about someone believing in you because when someone believes in you, you can do anything, you can fly and that's what I always say to people.
"Just believe in others and if you do this, they will thrive because every time you knock the people down they will feel like they are not good so they might act up like I'm not good anyway."
The Afro-Caribbean cooking classes were part of the Prince's Trust Black Pound Project, an initiative which aims to encourage the wider public to engage with and shop at Black-owned businesses.