Voting patterns at the Eurovision Song Contest have long been scrutinised for observations of "friends and neighbours" voting, but the 2022 edition may have seen a shift in these patterns.
Although UK topped the voting table with the jurors (an expert panel from each country who award points based on their top picks), gaining 283 points and a further 183 from the public, Ukraine grasped an overwhelming score from those at home to win the contest.
'Stefania' by Kalush Orchestra became the first rap song and the first sung entirely in Ukrainian to win the competition, however the entry scored just 192 points with the jury in comparison to 439 with the public.
Katrina and the Waves were the last British act to win back in 1997 when musical tastes were different, and Brexit wasn't on the agenda.
Viewers usually blame politics for Britain's unpopularity, and according to a 2016 poll by Statista, 60% of 756 surveyed in the UK said they dislike Eurovision as it's 'too political'.
However, with last year's UK dominance, could 2023 see a further shift in perspective towards political voting?
Looking at the below table, our biggest total score before 2022 came in 2017 with 111 points gained, with zero points acquired in 2021.
The only other year UK received 'nil points' was back in 2003 when duo Jemini performed 'Cry Baby' in Latvia. Those questioning political voting may note this was the year of UK's involvement in the invasion of Iraq.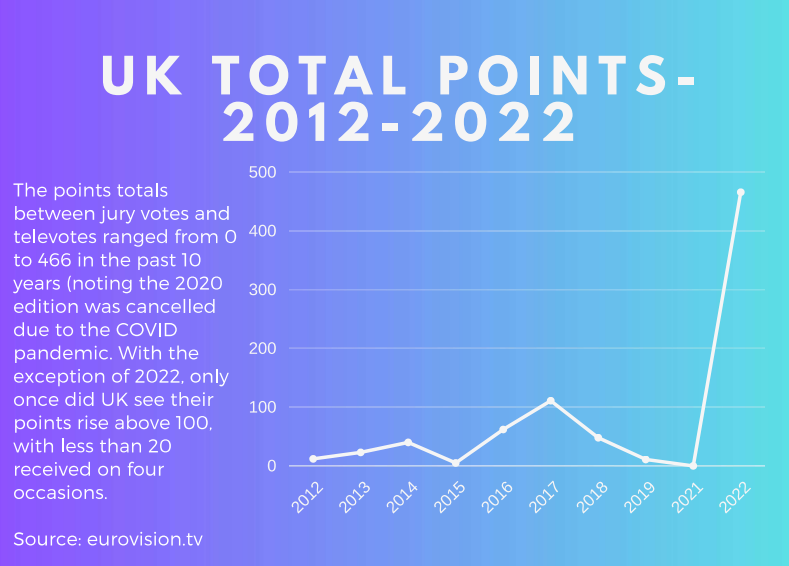 Leading Liverpool's coverage this year is journalist Christopher Megrath, who looked at the reasons behind UK's sub-standard results.
He said: "I think neighbouring countries share so much culture, so it's natural their music tastes are similar. Greece is more likely to vote for a Turkish entry given their proximity and musical influences.
"I don't think countries necessarily vote based on whatever is happening politically in each other's nations because we've seen Russia do tremendously well throughout the years.
"The UK hasn't managed to pull votes because the entries simply haven't been that good."
Mae Muller will take to the stage at the M&S Bank Arena next month in a bid to bring the trophy back to Britain for the first time in 25 years.
Christopher said: "I think Mae is a phenomenal entry and follows in the renaissance Sam Ryder created.
"A good Eurovision act isn't just someone who scores the most points, but an artist who can exist outside of the contest. When we look back at our last two decades of entries, very few had a career before or after the show whereas Mae has and will no doubt continue to build on.
"I think the UK definitely has the potential to do well, it's just a shame it's in a year with a handful of very clear front-runners."
Sweden have already been tipped as favourites to win the contest outright, with 2012 winner Loreen making a comeback with a similar track to that of 'Euphoria' 11 years ago.
Looking at the below map, since 2012 only Ireland have given UK an, albeit very small, handful of points (45).
Commonwealth country Australia have provided a total of 29 since joining in 2015, with Malta being the third most generous with 28.
France and Norway, as some of our closest neighbours, have gifted us a combined 12 in those ten years, so the neighbours argument is out of the question.
Several countries had not given any votes to UK in the ten years prior to 2022, such as Portugal, Luxembourg and Ukraine – with minimal given by others such as Sweden (1), Belgium (4), Netherlands (5) and Spain (10).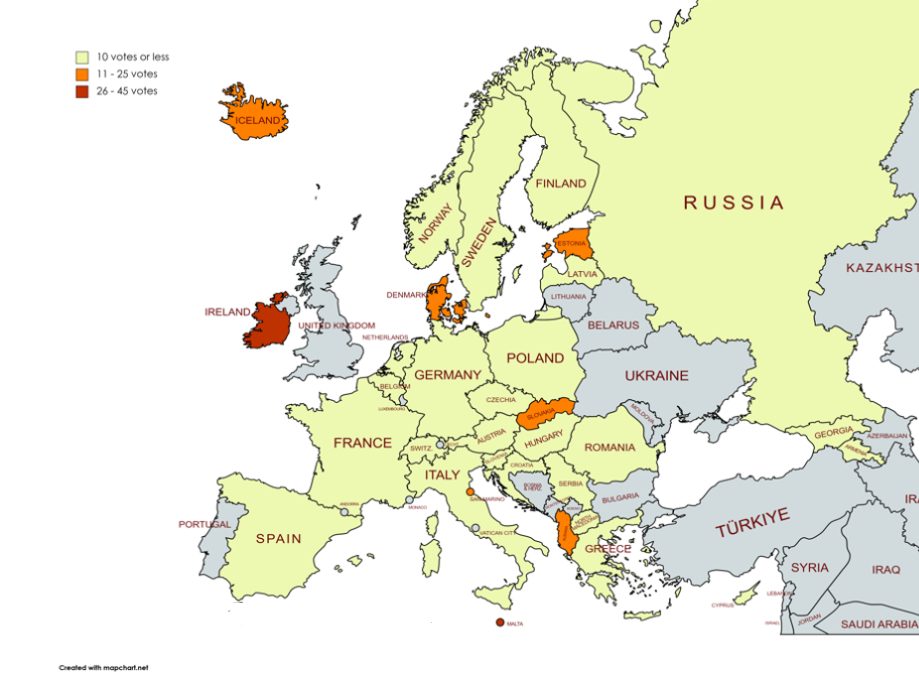 But 2022 was different. Everyone was our friend. And it proves that Europe (and Australia) don't ignore us because of our political crisis, but for our poor taste.
Personal campaigns could have a massive impact, where artists promote themselves strategically across Europe before the big event.
Sam Ryder had 12 million followers on TikTok before representing UK last year and dazzled the stage in Turin with a song about space he had written in ten minutes.
'Space Man' entered the UK Singles Charts at number 78, peaking at number two after the contest – becoming the highest-charting UK Eurovision entry since Gina G in 1996.
It was later ranked as the third best-selling song of 2022 in the UK.
He was chosen to represent UK internally, rather than going through a 'mini-Eurovision' type process that most countries opt for.
It worked out well, so should there be a change to the selection of acts?
Christopher said: "Personally, I hate the idea of a national selection. The UK has this thing where it gravitates toward an acoustic X Factor reject or someone who makes it big of a stripped-back cover of a bop.
"Last year's Armenian entry, Rosa Linn, gives an idea of the type of artist I'm talking about and while she's made it huge, I hate knowing that's exactly what the UK would opt for if it's in the hands of the public.
"Our selections need to be properly curated by industry professionals and management."
Despite all the criticisms of past acts and biased voting, UK finally seem to be on a long overdue upwards trajectory and it's in the hands of Mae Muller next month to expand our pool of "friends and neighbours" and bring the trophy home.
Featured image credit: Frédéric de Villamil via Wikimedia Commons under CC BY-SA 2.0 licence