British screenwriters gathered in Leicester Square on Wednesday 14 June to protest in solidarity with striking US colleagues fighting for better pay and protections.
The Writers' Guild of Great Britain (WGGB) staged the protest as part of 'Screenwriters Everywhere', a Global Day of Solidarity which saw writers in over 20 countries stand in support of US writers strikes.
Prominent British writers including Russell T Davies (Doctor Who, It's a Sin), Charlie Brooker (Black Mirror) Jack Thorne (His Dark Materials), and Jesse Armstrong (Succession, Peep Show) joined WGGB President, Sandi Toksvig in urging US production companies to fairly compensate writers.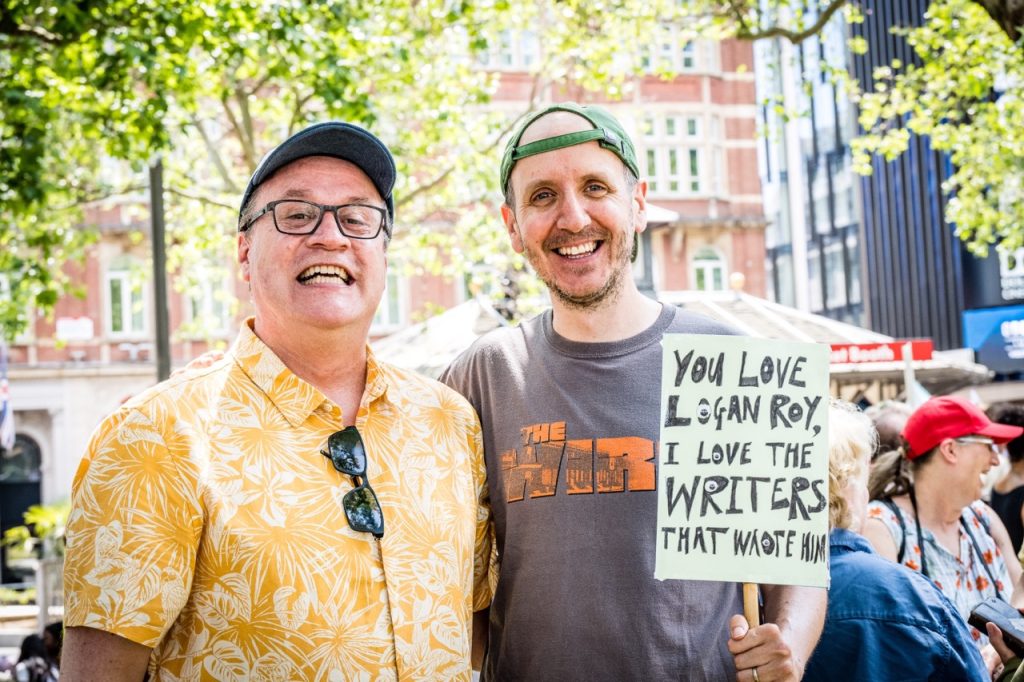 Toksvig said: "Everything starts with the writer, and we need to make sure that those who profit from the creative brilliance of writers, share those profits with writers, so they can be paid properly, enjoy fair working conditions and be treated with dignity and respect."
Writers Guild of America (WGA) members have been striking since 2 May 2023 after failing to reach an agreement with production companies regarding compensation, job security, and protections from streaming companies and artificial intelligence.
Addressing the crowds in Leicester Square, WGGB Chair Lisa Holdsworth warned that the dispute will have a knock-on effect around the world.
She said: "America's fight is our fight. What is coming over the hill with AI, the reducing of hours, of money that is given to writers, the pressure that is put on us in rooms, the truncated schedules that mean we're expected to do the same amount of work in half the time.
"It's all about one thing, it's all about money, and it's time that there was an understanding that nobody can do their job in this industry until we have done our job. It starts with us."
"If the writers guild do not succeed in this battle then it's bad news for all of us."
Ahead of the strikes, the Alliance of Motion Picture and Television Producers (AMPTP), which represents over 350 US production companies, argued its proposals offered better pay for writers as well as an increased cut of the revenue generated by their work.
However, the alliance warned that the magnitude of other WGA demands meant it was unwilling to improve this offer.
Particular sticking points were the WGA's requirements on "mandatory staffing" and "duration of employment" which would require companies to have a minimum number of writers working on each show for a minimum period of time regardless of demand for their work.
A 4 May statement from AMPTP said: "These proposals require the employment of writers whether they're needed for the creative process or not.
"While the WGA has argued that the proposal is necessary to "preserve the writers' room," it is in reality a hiring quota that is incompatible with the creative nature of our industry.
"We don't agree with applying a one-size-fits-all solution to shows that are unique and different in their approach to creative staffing."
The Full Monty co-writers Alice Nutter and Simon Beaufoy joined the London protest on the same day their new series premiered on Disney+.
While Nutter said they were heartbroken they had been unable to join cast and crew to promote their show, she was firm in her support for the strikes.
She said: "It's about workers' rights. People have this idea that if you're a writer you get paid an absolute fortune. When you're a new writer it's almost impossible to survive on what you make."
"If people fight for workers' rights, then they should fight for writers' rights too."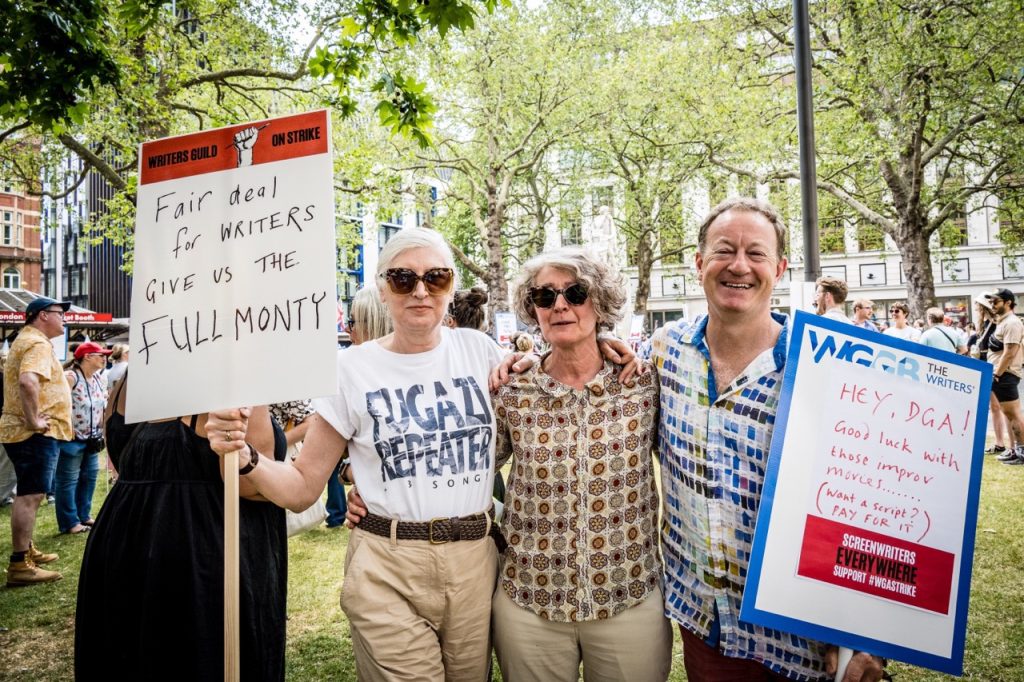 WGA member Andrew Chambliss (Fear the Walking Dead) joined the London protest over concerns that streaming giants have failed to give writers their fair share of profits.
He said: "Over the past ten years streaming has really changed the way the business has worked and writers have fallen behind, and we're just trying to keep up so writing can be a career and also doing this for the next generation of writers so that they can learn not just how to write but also how to produce and to make sure the film and television industry can be successful."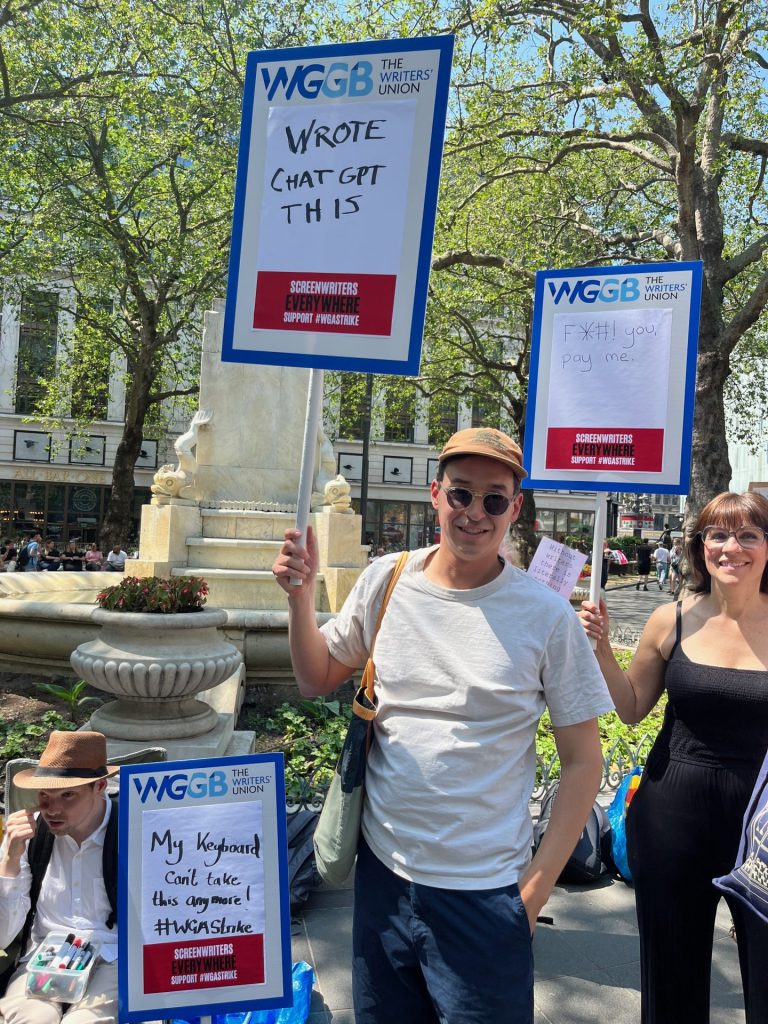 Meanwhile, Gaby Chiappe (Misbehaviour) expressed fears that increased reliance on artificial intelligence in writing processes will pose yet another threat to young writers.
She said: "They are going to starve the industry of new writers, new writers won't be able to survive because the work that they would have done, the way they would have learnt their craft and the way they would have got a foothold in the industry is going to be covered by AI.
"I don't know what the industry thinks it's going to do with no writers when they've killed off the new generation."
AMPTP has admitted the issue of AI raises difficult questions and will require further discussion, but argue their current agreement with the WGA provides some protection from this threat by restricting the definition of "writer" to only include people.
The WGA strikes have disrupted the production of a number of films and popular television shows including Stranger Things, Emily in Paris and The Last of Us, and writer Philip Lawrence warned that the dispute will continue to impact audiences as well as writers.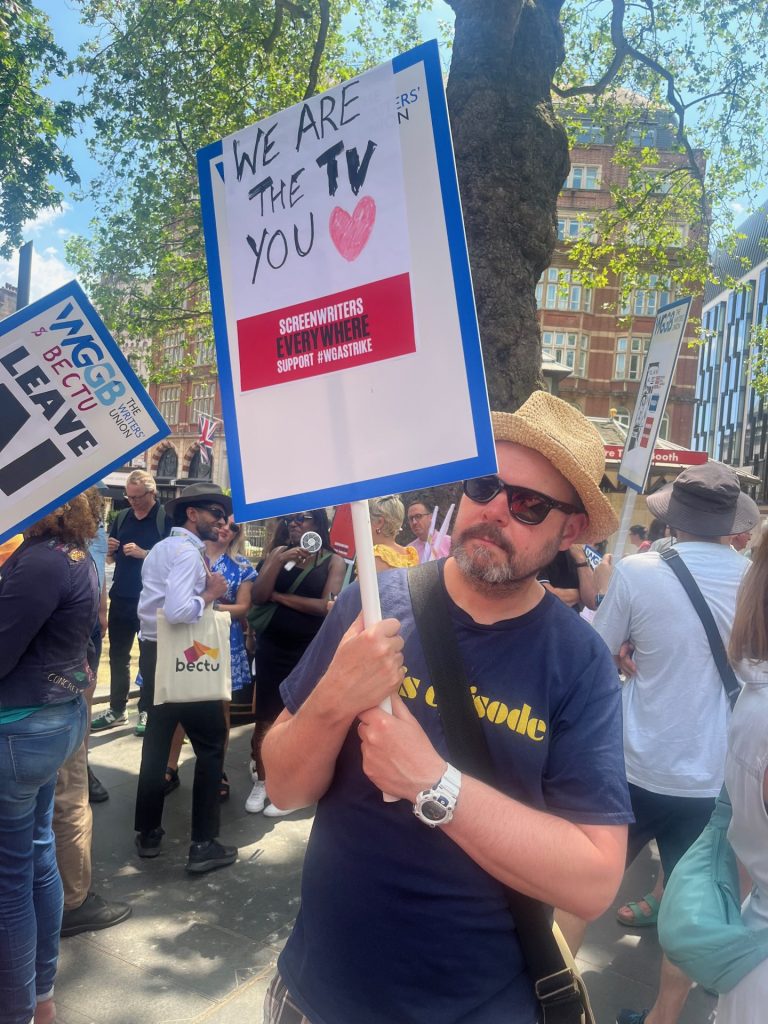 He said: "Without us there is no good TV.
"TV is loved and it's nothing without writers, it starts with the writers, it starts with that idea."
Nutter agreed: "People love telly. If you want more telly you need to pay writers properly."
Featured image credit: Em Fitzgerald