"It's weird to think about it like that now. 12 months ago my mindset was completely different – I was a different fighter, a different person."
A year is a long time in professional sport and it certainly feels so for Caroline Dubois when I sit down to chat with her at the end of a non-stop 2022 for the unbeaten boxer.
12 months ago, Dubois was preparing for her professional debut fresh off Olympic heartbreak. A year on and five wins later, the 21-year-old Londoner has cemented herself as one of Britain's brightest boxing prospects.
Her most recent win against Sofia Rodriguez in December lasted all of 60 seconds in front of a packed-out Bournemouth crowd, with the stoppage Dubois' fourth in a row and her second fight which has failed to make it past the first minute.
"I was happy that I made it look as easy as I did," Dubois said reflecting on the performance.
"I trained really hard, not just for this camp but for the whole year. I've done lots of rounds this year, and spent a lot of time working to improve my game.
"I was tired from all the training that I had done leading up to the fight – I was feeling it – so it was good to get her out of there so quickly.
"She's never been stopped before so that was really the cherry on top of a great year for me."
Dubois' style – rich with a technical pedigree honed in the amateurs but now blossoming with new-found aggression and power – has proved too much for all her opposition so far but Dubois is not concerned by the lack of ring time she has had in her last few fights.
She said: "I've never been one to try and fight for rounds, I've always wanted to impress people and be as explosive and exciting as possible.
"I feel like the work is done in the gym, especially at this level. Until I step up and start challenging for fringe belts and world titles I'm trying to do as much learning as I can in the gym.
"When the time comes when I'm in the ring against a tough and durable girl then I'll do my rounds and I'll practice what I've learnt in the gum but for now I'm not trying to hang around in the ring."
That step up which Dubois alludes to may present itself in her next fight, scheduled for February 11. Her opponent, Argentine Yamila Belen Abellaneda, has won national belts in Argentina and fought two-time world champion Terri Harper in March last year.
"I think it will be a very good learning fight for me," Dubois said.
"She fought a two-time world champion so she's been in there against high-level opposition and knows how to handle herself.
"I imagine I'll get some good rounds in and if I can get a dominant victory and make it look easy then I know I'm ready to step up and look towards titles by the end of the year."
Dubois' remarkable rise has not been without its hurdles, however. Targeting Olympic glory in the summer of 2021, the lightweight fell short in the quarter-finals – a defeat which left her questioning her capabilities.
"When I came back from the Olympics I was so devastated and confused.
"I had wanted to turn pro before it but that whole experience had made me doubt whether I was ready and good enough."
Dubois credits two people, in particular, with revitalising her enthusiasm and approach – promoter and Boxxer CEO, Ben Shalom, and her coach Shane McGuigan.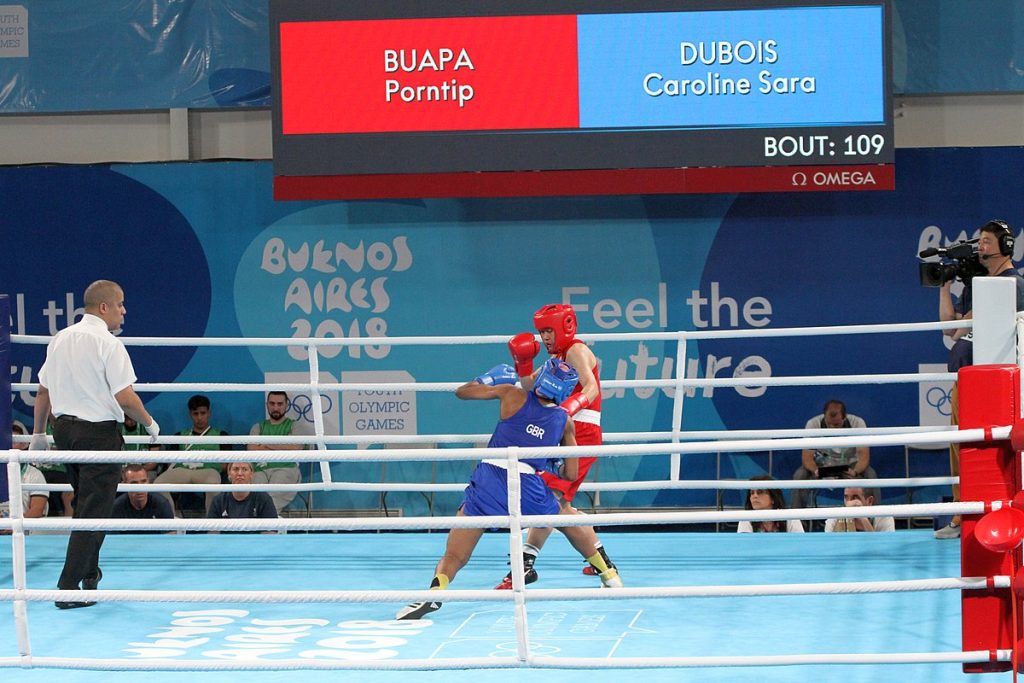 "I remember the first time I went on the pads with Shane, I thought – 'yeah, this is the guy.'
"He was showing me things that I didn't even know – different ways of slippy and setting shots up – I realised wasn't even throwing a backhand properly.
"That's what you want – not just someone to sharpen what you already have but to teach you something completely new and he's done that for me.
"I got the same feeling when I met with Boxxer and Sky – they seemed more excited about me turning pro than I did. That positivity and enthusiasm rubbed off on me and it was massive for my self-confidence."
Dubois' choices were vindicated after just three fights when she was presented with the opportunity to fight on the undercard of the historic fight between Claressa Shields and Savannah Marshall at a sold-out O2 Arena.
When reflecting on that experience, Dubois believes it was a transformational night for her career.
"I feel like I only started to embrace the professional game after my fight against Milena Koleva on that undercard," Dubois said.
"That whole event – it was different and the atmosphere was something else.
"In the changing room, I felt nervous – anticipating and worrying about what my opponent was going to do but that changed when I did my ring walk. I felt calm and everything became clear to me.
"I was so happy to have that experience because now I know what it's like to have that pressure and to walk out to a packed arena – I'm used to it and ready to do it again."
2023 will undoubtedly present those opportunities as she continues her journey towards a world title shot, but for Dubois, who had to pretend to be a boy to train aged nine, the sport has also afforded her the invaluable opportunity to express her true self.
"I remember I was doing an interview and this woman said that I'm so different in the ring – that I'm really sweet, nice and an innocent person. It's the opposite.
"I wouldn't consider myself to be this sweet, innocent girl. When I'm in the ring – that's who I really am and I can express myself how I want.
"I can be aggressive, I can hurt people, without trying to sound crazy. That's where I feel most at home and relaxed and I don't have to pretend to be anything or anyone else.
"I'm happy I got into boxing because I was able to discover that side of myself. When I was younger, I wanted to figure out what I was good at and find a purpose and a dream – I've found that all with boxing."
For more of South West Londoner's sports coverage, click here.
Featured Image Credit: First Access Sports