More than a century of pain was inflamed by the banana that lay on Brazil's football pitch on 27 September, as an act of racism, its bruised skin projecting the wounds of many racially abused football players.
The miserable banana was thrown at Richarlison, among other objects, when he scored for Brazil in a match against Tunisia.
On seeing this happen, lifetime Spurs supporter Edward Christie said he felt disappointment, not just because it happened to a Tottenham player but because it happened to a player at all.
Paul Monekosso Cleal is the chair on the Premier League Equality, Diversity and Inclusion Standard (PLEDIS) panel, who had a role in designing the revised version of the standard.
He added: "I'm 56 and unfortunately I've come to realise that I've seen so much of this over the years that I've become a bit hardened to it. 
"When I was a teenager, if I was going to get deeply upset each time I got racially abused then… well, I basically couldn't.
"I think it's quite difficult to be deeply upset by every instance you see without losing the plot yourself a bit."
Forcibly toughened by years of exposure to racist abuse, Richarlison's simple statement on the matter was: "[Racism is] happening every day and everywhere." 
The battered banana lying poignantly on the grass echoed back to the image of England's John Barnes back heeling a banana skin that was thrown at him in 1988.
At the heart of the football industry's anti-racism action is PLEDIS, which sets the three-level standards for clubs to progress their equality, diversity and inclusion, alongside The FA and other organisations.
It focuses on three areas: enforcement against perpetrators, upfront education on racism that addresses people's behaviour and more remedial education that focuses on making abusers aware of their actions.
Twenty-seven clubs are progressing through the standards, and former season ticket holder Christie affirmed Tottenham's inclusivity as a team as well as off the pitch.
He said: "All the players are regarded as equal. It's their football skills, not the colour of their skin, which determines their popularity as a player."
However, Cleal said the last few years have been emotionally draining, as there are now more channels through which racism is expressed, such as social media, meaning that players can be messaged racist abuse from the safety of their own homes.
He added: "That's invading your space in the place where, in the world pre social media, you were behind a locked door and free from it.
"For some people I think it's traumatic, particularly when it happens to them for the first time. Some with coping mechanisms are not really coping, they're just shielding."
Some players Cleal has spoken to have received 150 messages littered with abuse and banana or monkey emojis in a single day.
As a board member for the Met Police, Cleal believes that the collaboration on the level of offence that triggers the National Police Chiefs' Council being able to make a successful prosecution has been very important. 
Over the past year, there have been the first successful cases of social media abuse being taken to court, forcing people to face the consequences of online abuse.
Another positive development in the Premier League's anti-racism action under No Room for Racism is the system of hotlines each stadium has so that fans can text reports of abuse at the grounds. 
This promotes self-regulation, and gives fans the confidence to report these issues without having to confront the abuser.
Reporting racist abuse can be energy-sapping, Cleal explained, so educating and empowering people on how to report abuse is crucial.
He said: "I want to enable individuals to make a difference and succeed because I know if they get into senior positions they in turn will mentor lots of others and put effort in as well." 
Additional anti-racism action is being led by Show Racism the Red Card, which works with 50 clubs across the country to educate children by bringing them to their local stadiums where, after a full day of learning in the stadium, they can ask questions to a panel of special guests, such as football players who have experienced racist abuse.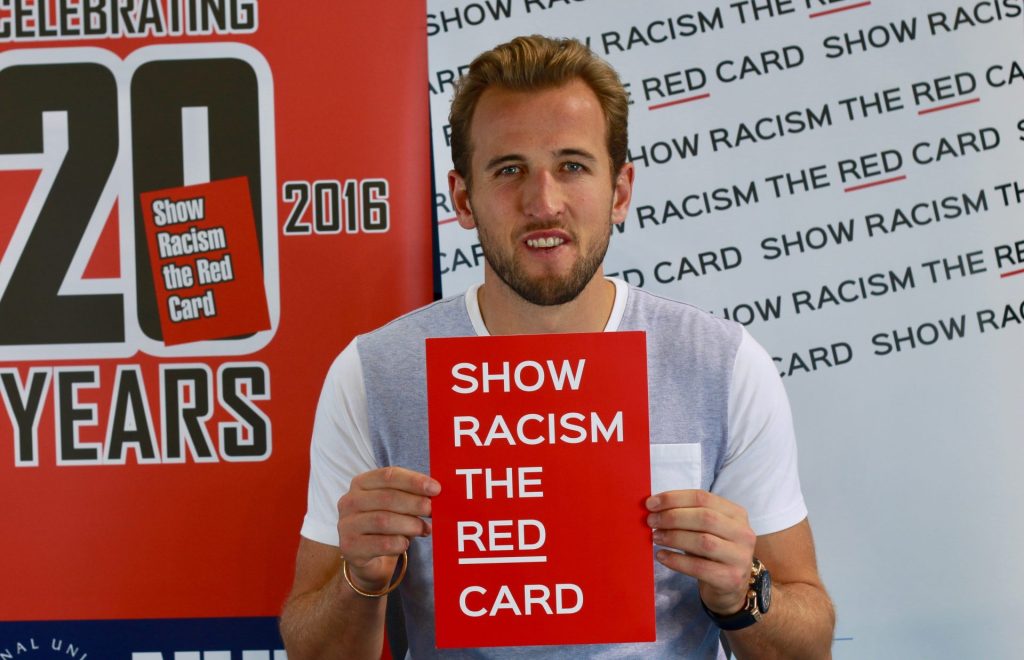 Show Racism the Red Card was set up in 1996 after Newcastle United's goalkeeper at the time Shaka Hislop was racially abused by four youths while filling up his car with petrol. 
From 50 metres away, they racially abused him, until they recognised who he was and approached him for an autograph: from 50 metres away, he was nothing more than a black man worthy of racist abuse, but from 50 feet away he was an icon to them.
The group was then set up on the idea that it could engage people across the country in debates on racism by using the role-model status of footballers.
They now have a number of educational films featuring a range of professional footballers such as Trent Alexander-Arnold, Harry Kane, Jill Scott, Dele Alli, Alex Oxlade-Chamberlain, Demi Stokes, Jordan Pickford, Harry Maguire, & Eni Aluko, alongside England manager Gareth Southgate. 
Deputy Chief Executive of Show Racism the Red Card Paul Kearns explained the organisation has come a long way with its work, but more needs to be done.
He said: "There has been distance travelled since 1996, we have made strides and we have moved forward but sadly there is some distance still to travel. 
"I am somebody personally who has not had experiences of racism and I probably will never understand 100% what it feels like to be on the receiving end of racism, but I will stand with the targets of racism and I will do whatever I can to support them and to try and eradicate this scourge from society."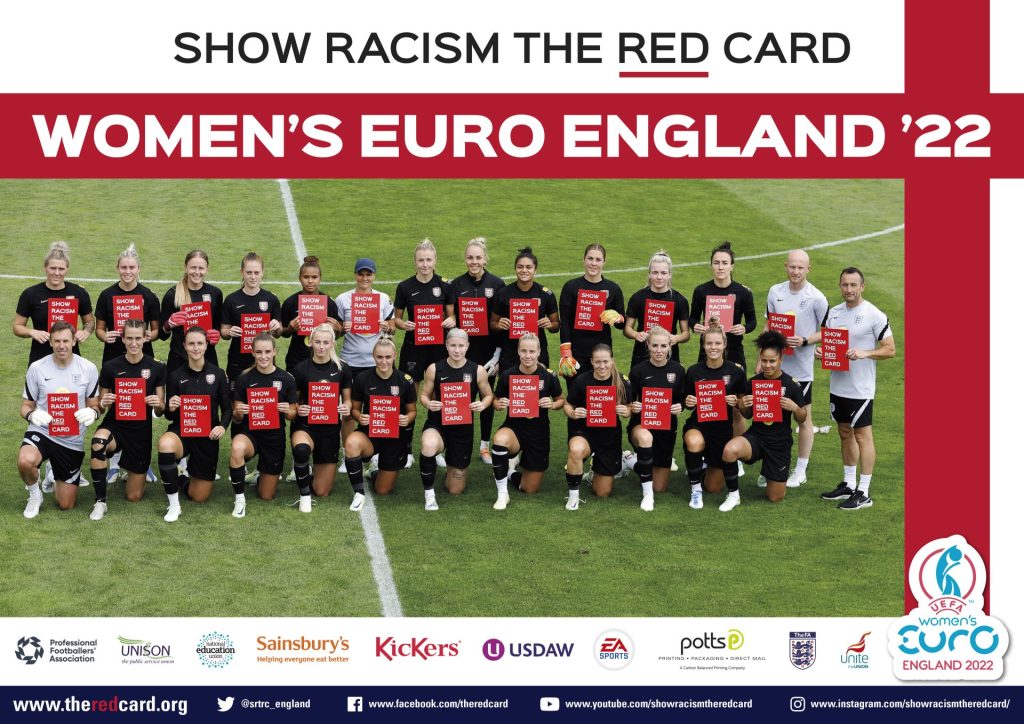 With Show Racism the Red Card's Wear Red Day on the horizon on 21 October, there is an opportunity awaiting people to show their support for an issue that has left many people, not just footballers, with long-term scars. 
Wear Red Day in 2021 saw 250,000 wearing red across the UK, and this year 330,000 people have registered so far, the largest involvement to date.
Brands like Marks and Spencer showing their support as well, and every penny raised on the day goes straight into training and education programs for young people. 
It is a day of unity, where football fans wear red regardless of their team's colour, to signify that people should stand together.
Kearns explained: "I think again that resonates with their friends and family even more when they see that red is not normally the colour that they would wear but they are prepared to wear it in support of anti-racism. 
"I think that's a really strong positive message."
As London's nightlife flickers into action on 21 October, glimpse a glow of red leak from the London Eye into the rippling Thames, echoing the pain of those who have suffered centuries of abuse, and consider Angela Davis' quote that 'it's not enough to be non-racist, we must be anti-racist'.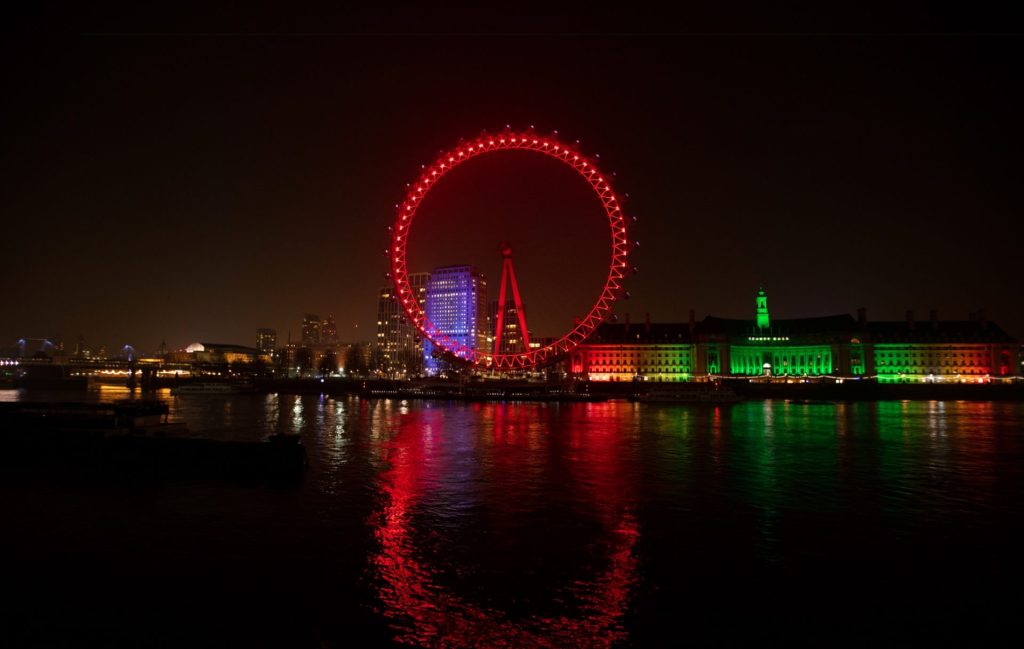 Feature Image: The Irish Labour Party, Flickr, CC 2.0 Licence