A lot of young English players find their places in the seemingly vast English Football pyramid, but the Onside Academy, based in Stratford, and associated Onside Sports Group, is pioneering a new approach and sourcing professional opportunities for its players abroad.
In the last two years, this has seen them build relationships with a number of Canadian Premier League sides, a process which has led to five different players making the trip across the Atlantic.
One of those players is Nicky Gyimah, who, having spent time in the youth academies of Sunderland and Peterborough, made the switch to Vancouver FC in March.
Vancouver, a newly-formed expansion team, eventually picked up three players with Onside affiliation, with the 20-year-old paving the way for a further connection.
The link seems an unlikely one and Gyimah, who represented Ghana at youth level, admits that the Canadian interest came as something of a surprise at first when he was on the verge of signing for a National League side.
He said: "It felt like it came out of nowhere.
"I think one day I was coming back from training at a National League team and my agent called me and told me that a manager in Canada is really interested in me.
"The National League team were adamant on signing me, but I didn't feel as though I could have grown in that side."
Over the course of a three-hour conversation, Gyimah was convinced, with Vancouver manager Afshin Ghotbi, who has assistant roles at the United States and South Korea national teams on his CV, outlining his vision for the new club.
Gyimah explains: "He'd seen my clips and my footage and he'd been following me. He was insistent about me coming over there.
"It was a surprise, but the project seemed really good and I thought 'Yeah. You know what? Let's just go for it.'"
Whilst Canadian clubs extensively scouting in smaller European leagues might be hard to believe, former CEO and general manager of Toronto-based CPL club York United FC, Angus McNab, says that clubs are increasingly opting for a data-driven approach in order to scout internationally.
His background at Opta, a sports statistics company, led to York signing a deal with Statsbomb to collate detailed scouting data from around the world, and this resulted in the acquisition of players such as Brem Soumaoro – a Liberian who had last played in Cyprus.
McNab said: "We tried to really cast the net much wider and look at what may be out there.
"With the emergence of Instat, Wyscout, all of these video based platforms, and better data being available on those platforms and externally, it gives you a much bigger world to scout."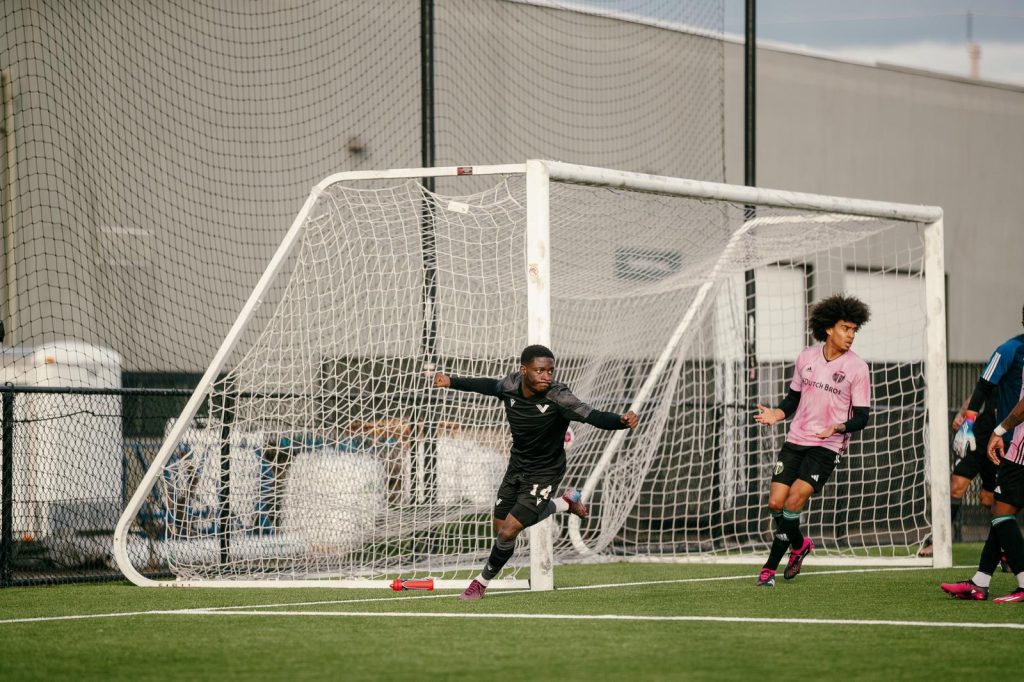 Heading abroad, particularly out of Europe, is an unconventional path for a young British player with such an established footballing system at home, but Gyimah is adamant that the move has helped him develop as a player.
He said: "Canada was great for growing as a person, you're living out in a whole different continent by yourself.
"You haven't got family, friends, nothing – it's like starting fresh."
McNab adds that during his time at York, he would intentionally target young players without families, with this being beneficial both financially and from a development standpoint.
He said: "We looked and tried to do as much character work as we could, football becomes a pretty small world, whether it's guys who've played overseas, relationships within coaching staff; we were able to dig pretty heavily on that."
Whilst, by Gyimah's own admission, the standard of football in the Canadian Premier League leaves a little to be desired on a technical level, it is the experience of being treated as a fully-fledged professional that he has found so beneficial.
He said: "It's a good experience for a young player.
"You wouldn't get many leagues around the same level in the UK that are flying out everywhere and get a lot of media attention – the games are broadcasted really well.
"It's a top-flight league in Canada as well."
Gyimah's agent Emmanuel Nare has played a significant role in creating the link between the Onside Academy and Canada.
He said: "The scouts watched games that were played within our system where we play live games on a regular basis.
"They saw a number of players and they said, 'These players look like they potentially could grow and could benefit from being in the country.'
"They were interested on building a pathway from here to the Canadian league and it's a stepping stone for some of the boys that don't want to use the conventional route of trying to get into an academy here."
Nare also praises Gyimah's contribution to establishing this pathway.
He added: "Nicky did so well when he went out there, he did so well they asked him to recommend players.
"We used him as a poster boy, it opened doors for so many other boys. He can never knock the fact that he was one of the pioneers."
Four other players, besides Gyimah, affiliated in some way to Onside, spent last season in Canada, namely Udoka Chima at Cavalry FC, Emmanuel Robe and Ibrahim Bakare at Vancouver, and Malik Owolabi-Bolewu at recently-crowned champions Forge FC.
Some have since returned to the UK to look for further opportunities, with Gyimah being one of them.
He maintains, however, that the experience has still been a valuable one with an unnamed European club on the verge of securing his signature.
He said: "I would recommend it to other young players. In terms of growing into a professional footballer it definitely is a good platform to push yourself on.
"The experience I've had in Canada, I wouldn't take anything away from it."
Featured image used with permission from Emmanuel Nare