Athletics icon Colin Jackson joined Olympic champion Dani Rowe at the Geraint Thomas National Velodrome of Wales to pay tribute to the 2018 Tour de France winner and recognise the key role The National Lottery has played in supporting Britain's brightest athletes.
Thomas, who was one of Team Wales' flag bearers for this year's Commonwealth Games, will be competing in the time trial event later today before taking on the road race on Sunday – an event he won at the Glasgow Games in 2014.
Among Thomas' many admirers is Jackson, a Welsh hurdler whose career honours include two Commonwealth golds, two World Championship triumphs and an Olympic silver medal.
Speaking from the Newport velodrome where it all started for Thomas, Jackson heralded the enduring legacy of the cycling icon and stressed the importance of The National Lottery funding he had received.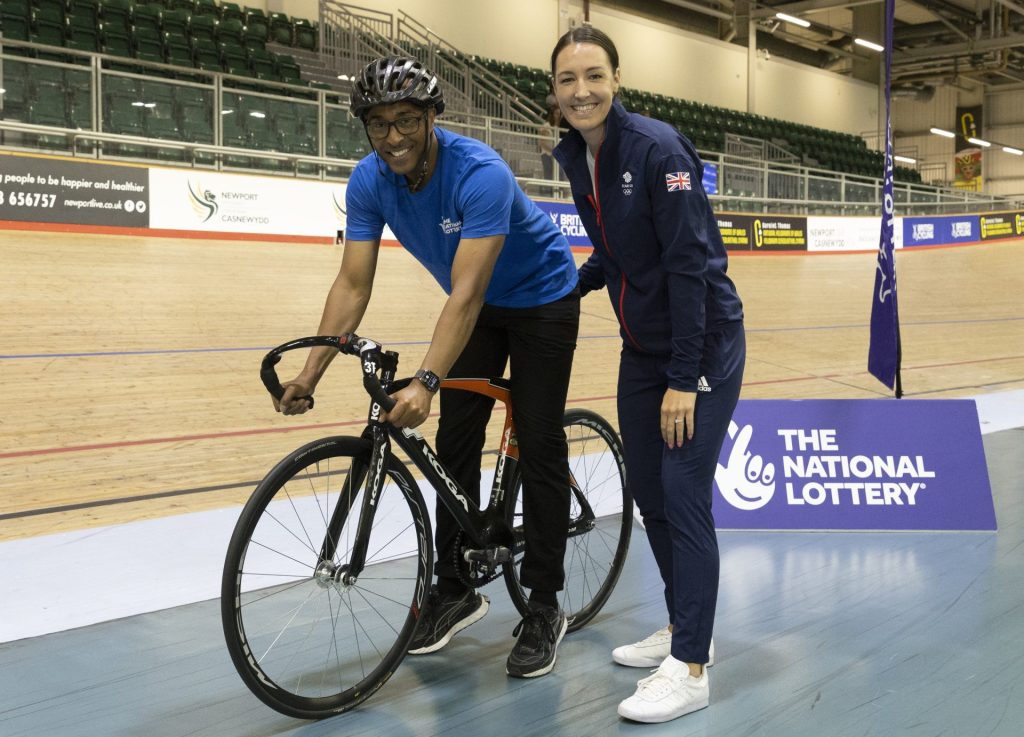 He said: "Geraint is one of the sporting icons of the world, so we are very blessed to have him here as a Welshman, and a Welshman who's really proud to wear his colours, and I think that is so important.
"For so many Welsh up and coming sport stars it says, 'It doesn't matter where you come from, you have the opportunity to shine on the world stage' and I think that's the importance of it all.
"You see Geraint on the television, and he sounds like me – he's from Cardiff – so you hear that Cardiff accent and kids just think, 'He's made it so why shouldn't I'".
The National Lottery has invested over £40million to support this year's Commonwealth Games in Birmingham, while the Geraint Thomas National Velodrome of Wales has received £7.5million of funding.
And Jackson, whose 12.91 second 110m hurdle record stood for over a decade, added: "Something like this [velodrome] would also not exist without that funding.
"What I think sometimes people forget is it's not just for the elite level, it's for the grassroots and for people who want to do these 'come and try' events as well. This is the good The National Lottery does.
"It gives the youngsters the opportunity to become stars like [Thomas]. Nothing can be attractive if you haven't got the facilities to facilitate your desires and dreams.
"We are seeing that as a nation now that the success of our Olympic and Paralympic teams has come from the importance of good funding and facilities."
Rowe, who is a three-time world champion and team pursuit gold medal winner at the London 2012 Olympics, echoed Jackson's sentiments.
To Rowe, a combination of athletes of Thomas' influence and funding programmes can inspire a new generation of Welsh sporting talent.
The 31-year-old, who retired from cycling in 2018, said: "What a role model [Thomas] is. I'm standing here in this velodrome that's obviously named after him and I can see so many kids aspiring to be the next Geraint Thomas.
"Obviously with this facility, which has been funded by The National Lottery and named after him, it provides that huge opportunity for these young kids.
"There's probably 30 or 40 kids down here that wouldn't have the chance to try this amazing sport out if it wasn't for Thomas and this facility, so it's fantastic."
Over 1,100 athletes are supported by The National Lottery-funded World Class Programme, which allows elite athletes to train full time, have access to the world's best coaches and benefit from cutting edge technology and medical support.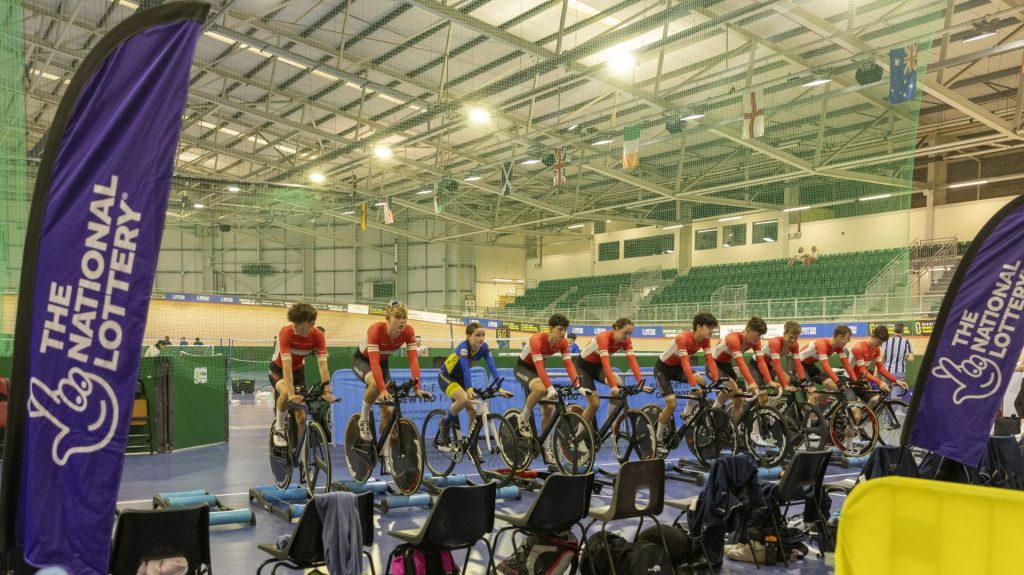 Beneficiaries of the programme include two of Wales' Commonwealth Games medallists – Emma Finucane and Rhian Edmunds.
Finucane, from Carmarthen, won a team pursuit bronze on the opening night of racing before beating England star Sophie Capewell in a best-of-three sprint to take another third-place finish.
And the 19-year-old said: "I've been funded by The National Lottery since I was about 16 so for about three years now and it's played a huge role in my career. This sport is quite an expensive sport so it's massive.
"This velodrome was built in 2003 and it was funded by The National Lottery to get people into sport, so if it wasn't here, I don't know if I would be a track cyclist to be honest."
The £30million a week raised by National Lottery players is vital for funding sport from grassroots to the elite level.
Edmunds, who was also part of the Wales team-pursuit outfit that picked up a bronze medal at Lee Valley VeloPark, added: "If it weren't for this velodrome, I also wouldn't be a cyclist.
"The National Lottery funding gives young people opportunities and I think that's integral. Without it you would struggle to get the strength in depth of talent that you've got in Wales and we've got across the UK."
The £40million worth of National Lottery funding to support the Birmingham Games will be invested in the multi-event competition's legacy.
The money has gone into the competition's infrastructure, the home nation teams and grassroots sport programmes while it has also provided employment, training, and volunteering opportunities.
Scott Davies, who is young rider lead at Welsh Cycling, said: "The National Lottery funding plays a pivotal role in every athlete's journey in the UK.
"For us as a national governing body it allows us to put our performance programmes together and give athletes the opportunities they deserve – Geraint included.
"But not only that, it trickles right down to our talent development programmes and our grassroots programmes. To put it quite simply, we wouldn't be able to have the same reach and impact as we do without the lottery funding."
National Lottery players raise more than £30million a week for good causes including vital funding into sport – from grassroots to elite. Find out how your numbers make amazing happen at: www.lotterygoodcauses.org.uk and get involved by using the hashtag: #TNLAthletes.