A new campaign by Transport for London (TfL) is encouraging passengers to help stop sexual harassment on the capital's transport network.
The campaign, which launched last week at sites across the network and on social media, aims to encourage what TfL calls "a culture of active bystanders" by explaining how passengers can intervene when they witness someone being sexually harassed.
Seb Dance, Deputy Mayor for Transport, said: "Everyone should feel safe and be safe at all times when travelling around London.
"This campaign will help Londoners look out for each other when they are travelling. It provides practical guidance on how to recognise and report incidents."
But passengers are advised to only intervene if it is safe to do so.
Siwan Hayward, TfL's director of security, policing and enforcement, said: "We're not asking customers to police the network. That's our job."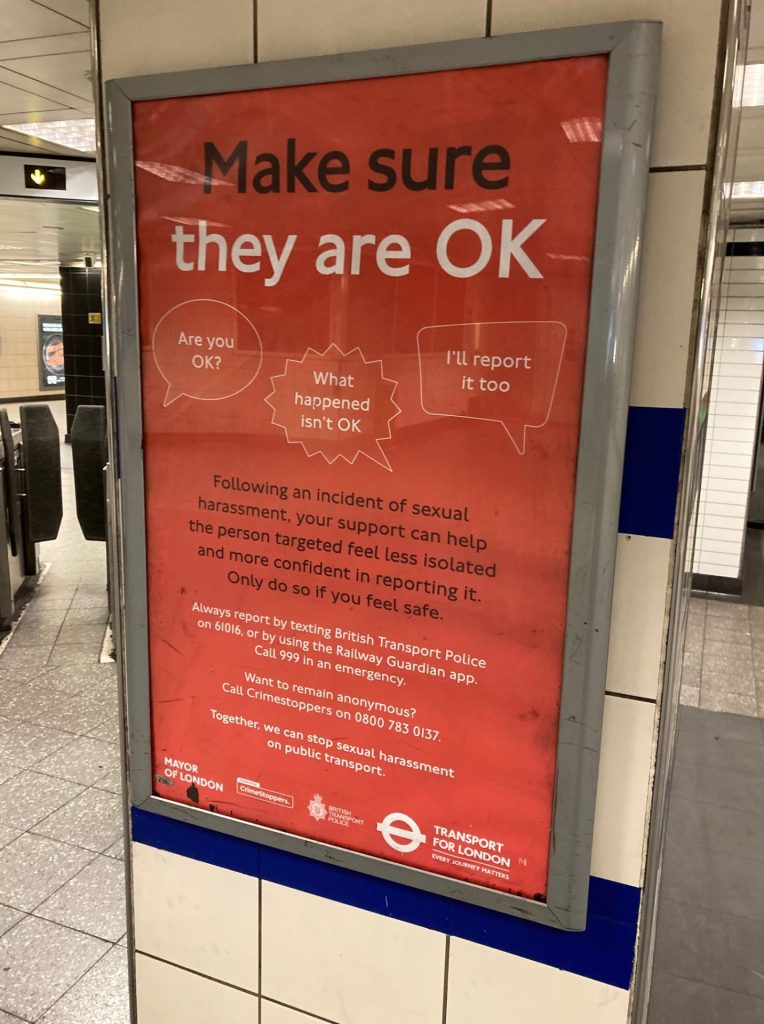 Practical ways to help
Sexual harassment is defined as unwelcome sexual attention.
It includes not just physical contact but staring, sexual comments and filming or photographing someone without their consent.
Michael Roberts, chief executive of London TravelWatch, said: "63% of people we spoke to told us they want to help other passengers when they witness something that's not right.
"But they often feel like there isn't a clear and easy way to do it."
The campaign highlights practical ways that passengers can help, such as asking the perpetrator a simple question like "What zone are we in?", noting down details of the incident and asking the victim if they are okay.
"Small actions can make a huge difference," Hayward said.
British Transport Police received 421 reports between April and October in 2021, when the network opened up between the two pandemic lockdowns, up from 259 for the same period in 2019.
"We're encouraging all Londoners to familiarise themselves with the campaign guidance," Roberts said. "Every report and every intervention matters."