The world was watching the Queen's final journey from Westminster to Windsor, and the coffin that held her.
The monarchy, marked by its penchant for custom, ensured that her death, as well as her
life, followed protocol.
The Queen's coffin was draped with the Royal Standard, the flag representing the sovereign and the
United Kingdom.
Flown only when the sovereign is in residence, its presence at her funeral becomes a tender
goodbye.
The Imperial State Crown, Orb and Sceptre, all integral to the royal coronation, were also
present.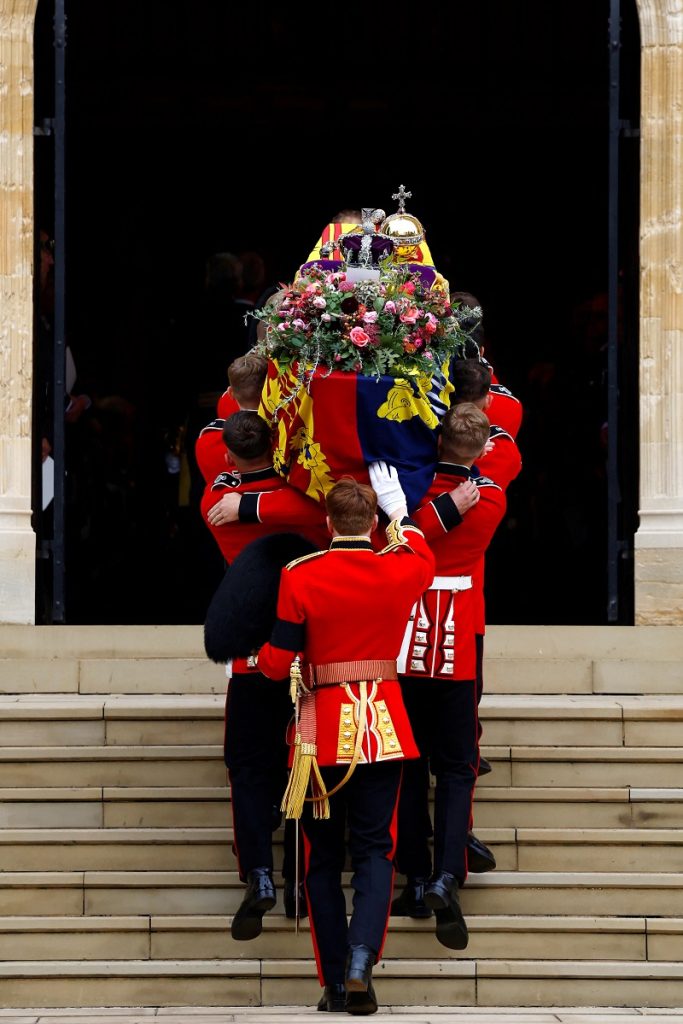 The sceptre represents the Crown's power and governance, and has been used in every
coronation since 1661.
The golden jewelled orb, surmounted by a gem-encrusted cross is symbolic of how the
monarch's power is derived from God.
In the crown, the absolute sovereignty of the monarch is understood.
By placing the royal trappings that defined her life atop her coffin, the world bore witness to the
Queen's deliverance on the promise she'd made on her 21st birthday.
"I declare before you all that my whole life whether it be long or short shall be devoted to your
service."
Amongst the formal, a wreath of flowers showed that while Elizabeth was a Queen, she was
also a wife, mother and grandmother.
At the King's request, the foliage contained rosemary, English oak and myrtle (cut from a plant
grown from myrtle in The Queen's wedding bouquet) and flowers, in shades of gold, pink and
deep burgundy, with touches of white, cut from the gardens of Royal Residences.
Nestled between the blooms on a card were the words: "In loving and devoted memory. Charles
R", written by a grieving son.
Featured image credit: Reuters