Striking nurses were out in force today as they continued to campaign for better pay and working conditions and to highlight concerns over staff shortages.
Members of the Royal College of Nursing (RCN) took to the streets outside multiple hospitals across the UK, including University College Hospital (UCH) in Euston.
Chants of "Hey, Hey Rishi Sunak, I wanna know when we'll get our pay" to the tune of 'Hey! Baby' by Margaret Cobb and Bruce Channel and later covered by DJ Otzi rang out outside UCH as the latest round of industrial action entered its second day.
RCN rep Bert Roman, a staff nurse in cancer care for 3 and a half years, ​said: "It's been uniting and heartwarming to see our colleagues come out in masses and that other people have come out to support."
Several vehicles driving past the protest honked their horns in support as one driver wound down his window and made the heart symbol with his hands much to the delight of those on strike.
Many taking action were holding signs with slogans such as 'Nurses are for life, not just for Covid', 'Called Hero, Paid Zero' and 'Claps won't pay the bills.'​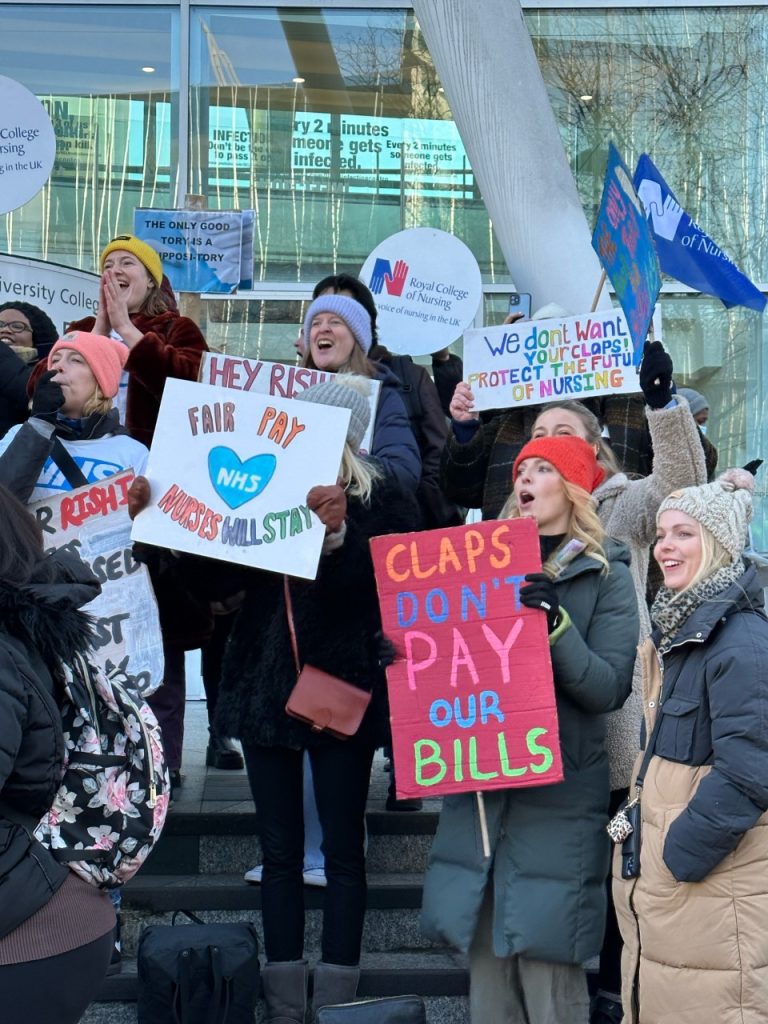 Roman added: "It's nice to come out and feel that I'm not alone. It's very empowering to see such a big mass of people coming out and taking this seriously. That's a sign of it being serious.
"It just needs to change how we are running the health system at the moment. We are understaffed and our job is not attractive enough for people to stay in or even go to school for and pay student debt for.​
"We are not up-to-date with how our job is being valued and people are leaving the profession for other opportunities.​"
Asked about those who don't agree with the strikes, Roman said: "I would first ask, where do you get your healthcare from? Is it private or is it public? Who are you? What's your background? What's maybe your annual income?
"Someone who says that possibly says that from a background of ignorance or not knowing what's it's like to live day-to-day not being able to pay your rent or being able to pay your bills.
"Unless you know what it is to live in poverty, you can't judge us for coming out to ask for better pay."
More nursing strikes are planned for Monday, 6th February and Tuesday, 7th February as the dispute against the government looks set to continue.
Featured image credit: Phil Campbell