Police have arrested a man who attempted to pull the royal standard from the Queen's coffin.
The man, who had been queuing for hours, rushed at the casket but was quickly tackled to the ground by police, leaving mourners open mouthed and stunned.
Airport style security is being enforced at Westminster Hall, with the ceremonial guard performing a 24-hour vigil in 20 minute shifts.
There are three ceremonial units tasked with guarding the sovereign as she Lies-in-State. The Gentlemen at Arms were the first royal bodyguards to begin the vigil, and can be seen standing closest to the coffin as Her Majesty rests on the raised platform, known as a catafalque. The Royal Company of Archers and the Yeomen of the Guard will also stand guard.
In addition four police officers stand at each corner of the catafalque charged with monitoring the thousands passing through the medieval hall.
"At 10pm on Friday 16 September officers from the Met's Parliamentary and Diplomatic Protection Command detained a man in Westminster Hall following a disturbance," said a Metropolitan Police statement.
"He was arrested for an offence under the Public Order Act and is currently in custody."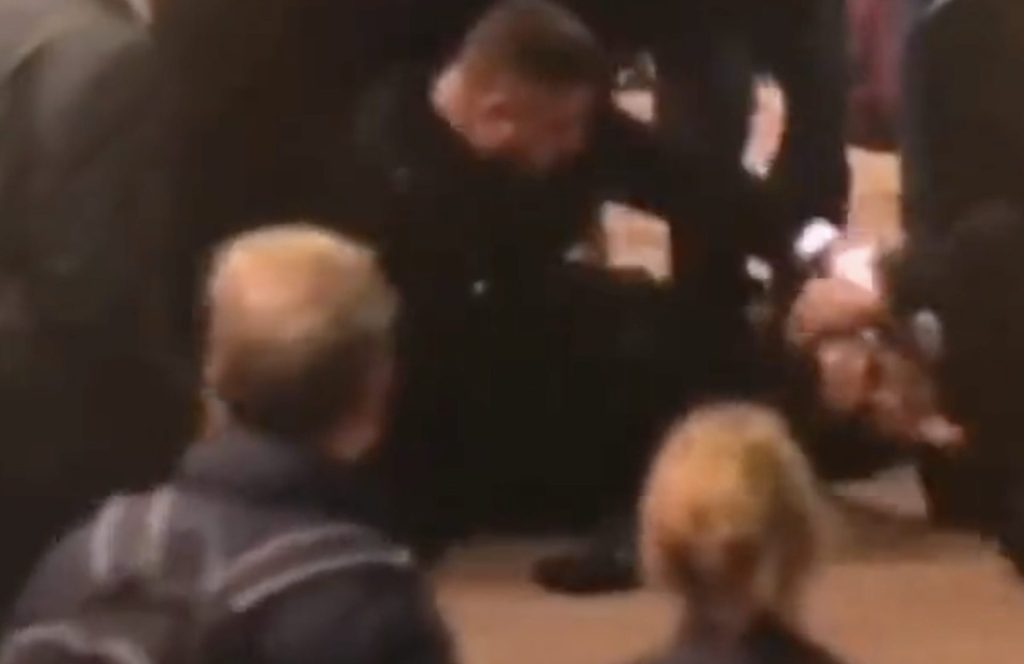 A spokesperson for the the UK Parliament added: "We're aware of an incident in Westminster Hall, in which a member of the public moved out of the queue and towards the Catafalque. They have now been removed from the Hall and the queue restarted."
Tracey Holland described the moment the man pushed past her seven-year-old niece Darcy to charge at the coffin.
"A person decided they were going to push my seven-year-old niece out the way, run up to the coffin, lift up the standard and try to do I don't know what," she told Sky News. "She was grabbed out the way and the police had him within two seconds.
"It's terrible, absolutely terrible, so disrespectful and unbelievable – and this poor little seven-year-old child, this is her lasting memory of the Queen."
Thousands are currently queuing to see the Queen's coffin, with officials warning that it will take at least 24 hours to reach Westminster Hall.
On Friday the King, Princess Anne, Prince Andrew and Prince Edward stood around the Queen's coffin – all dressed in the military uniform – for a 15-minute vigil of the princes. A similar vigil will be undertaken by her grandchildren on Saturday.