A Berkshire charity is bringing Ukrainian refugees together for Eurovision with a party in Reading, thanks to support from The National Lottery.
The Cowshed, a crisis charity that provides essential items such as clothes to those in need, will host 250 of the 1,000 Ukrainian refugees it has helped in the past 12 months at Reading FC's conference centre to watch the contest, hosted by the UK on behalf of Ukraine, on 13 May.
Thanks to National Lottery funding, the charity has put together the event in little more than six weeks, with local businesses coming together to drive down costs and provide food, drinks, and entertainment free of charge to guests.
"To be able to put something in the local area, free of charge, is just a really nice thing to do," said Cowshed fundraising manager Rebecca Mole. "Everyone is really excited about – who does not love Eurovision?
"It is just a lovely thing for us to be able to do for these families who have gone through a horrific time, and still are going through a horrific time.
"It's a momentary distraction for them to be able to celebrate Ukraine and come together, as lot of these families won't know each other."
"We had to find a venue very quickly, find a band, someone to do the food and all the other things. We have spent a lot of time to source these things, barter with everybody to keep the cost down.
"Everybody has cut their costs from their commercial rate because it is such a special event, and they want to give something back. The response has been great."
More than forty-five community projects across the UK, including The Cowshed, have shared over £300,000 of funding from The National Lottery Community Fund to help bring communities together to celebrate Eurovision and support the Ukrainian community here in the UK.
The National Lottery, who are one of the biggest supporters of music and culture in Liverpool, have invested over £330m in 3,600 arts and heritage projects to date. Liverpool's historic hosting of Eurovision sees The National Lottery make further multi-million-pound contributions to arts, heritage and community across the city.
The Cowshed are no strangers to working quickly, with their regular work involving rapid responses to over one hundred people each week in acute need of clothing, bedding, and other essentials.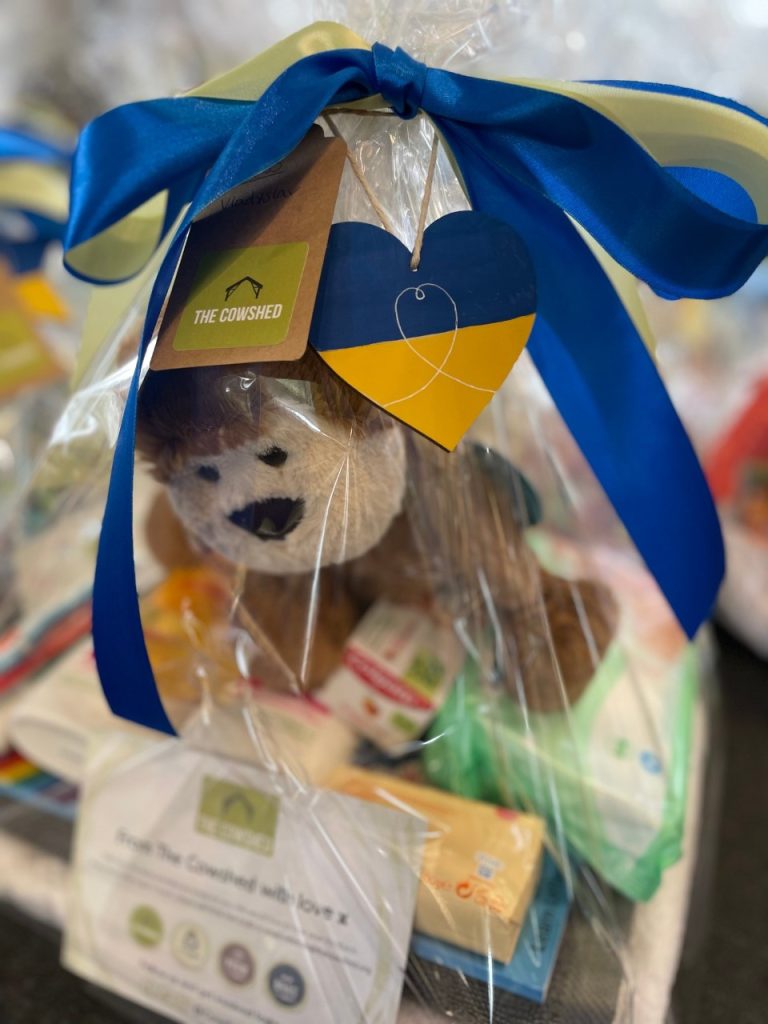 Nevertheless, putting together this party has been a mammoth effort after applying for National Lottery funding at the start of March.
"We have had the funding from The National Lottery which is phenomenal," Mole added. "It has been turned around very quickly.
"We produced the idea, put the application in for funding and we were successful very quickly, we got a yes within two weeks – it's only been going on since the start of March.
"We have a craft team that supports our charity, they have been busy making lots of Eurovision bunting, we have got lots of decorations.
"We are still trying to sort some bits around the edges, but we are pretty much there; we have got the flags, we have got the bunting, all the main things are there so it's really exciting and the support has been really enthusiastic."
National Lottery players raise more than £30 million a week for arts, education, environment, health, heritage, sport, and voluntary projects across the UK; see the difference it's making near you at www.lotterygoodcauses.org.uk