Edinburgh will be the focus of national mourning on Monday before attention switches to the capital.
After a six-hour journey from Balmoral Castle on Sunday, where she died on Thursday afternoon, the Queen's coffin will stay overnight in the throne room of the Palace of Holyroodhouse.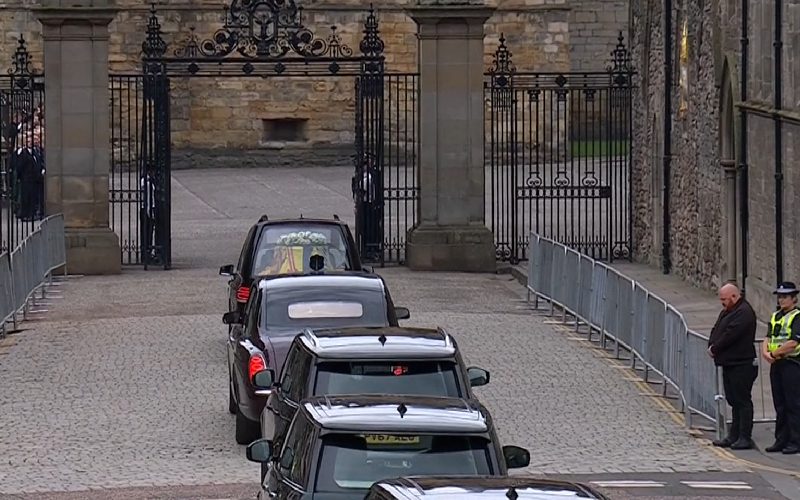 On the afternoon of Monday September 12, it will travel in procession from the official residence of the British monarch in Scotland, down the Royal Mile to St. Giles' Cathedral, with crowds already starting to line the route.
King Charles III will then lead mourners in a short service, with the Queen lying in state at the cathedral for 24 hours, guarded by Vigils from The Royal Company of Archers.
On Tuesday, accompanied by the Princess Royal, the coffin will leave the cathedral for a flight from Edinburgh to RAF Northolt, which is expected to arrive at 3pm.
The funeral cortege will then travel from north London to Buckingham Palace, where the late sovereign's piper will play a lament, as her coffin is carried from the hearse to lie in the Bow Room of the Palace.
The Queen's coffin will be taken be taken to Westminster Hall on Wednesday afternoon on a gun carriage of the The King's Troop Royal Horse Artillery.
The procession will travel via Queen's Gardens, The Mall, Horse Guards and Horse Guards Arch, Whitehall, Parliament Street, Parliament Square and New Palace Yard.
After a short service presided by the Archbishop of Canterbury, the Queen will lie-in-state for four days, with thousands expected to queue for hours to pay their respects, before until the morning of the State Funeral – the first since Sir Winston Churchill in 1965 – on September 19.
Church services across the country were held on Sunday, with congregations singing the national anthem 'God Save The King'.
In a special service at Canterbury Cathedral, the Archbishop of Canterbury – the senior bishop and a principal leader of the Church of England – reflected on an 'unexpectedly extraordinary Sunday'.
He added: "Those who met the Queen are always struck by her ability to make them feel as though they were the most important, the only person in the room, the only person in the street, in the crowd.
"King Charles III has the same ability to see the value of each person as God sees them. That is his conscious understanding of people.
"Both Her late Majesty and His Majesty treat others as special because, for both, their faith is built on the same rock – the rock of Christ."
Images courtesy of BBC News via iPlayer, with thanks