A two-year-old girl from Clerkenwell has won a prize in a photography competition with a picture she took in a park.
Jessica Jackson was only 18 months old when she took the winning shot for the Peel Prize "Community" at this year's Clerkenwell Community Photography Competition.
The bold colours and the sunlight in Myddleton Square, Clerkenwell, caught Jessica's attention and she asked her mother, Joanna Jackson, for her phone.
Mrs Jackson, 41, said: "It was just a really happy day.
"She'd been on the slide, there was a little girl blowing bubbles, and then Jessica decided she wanted to borrow my phone and take a picture – I think the light through the trees caught her attention."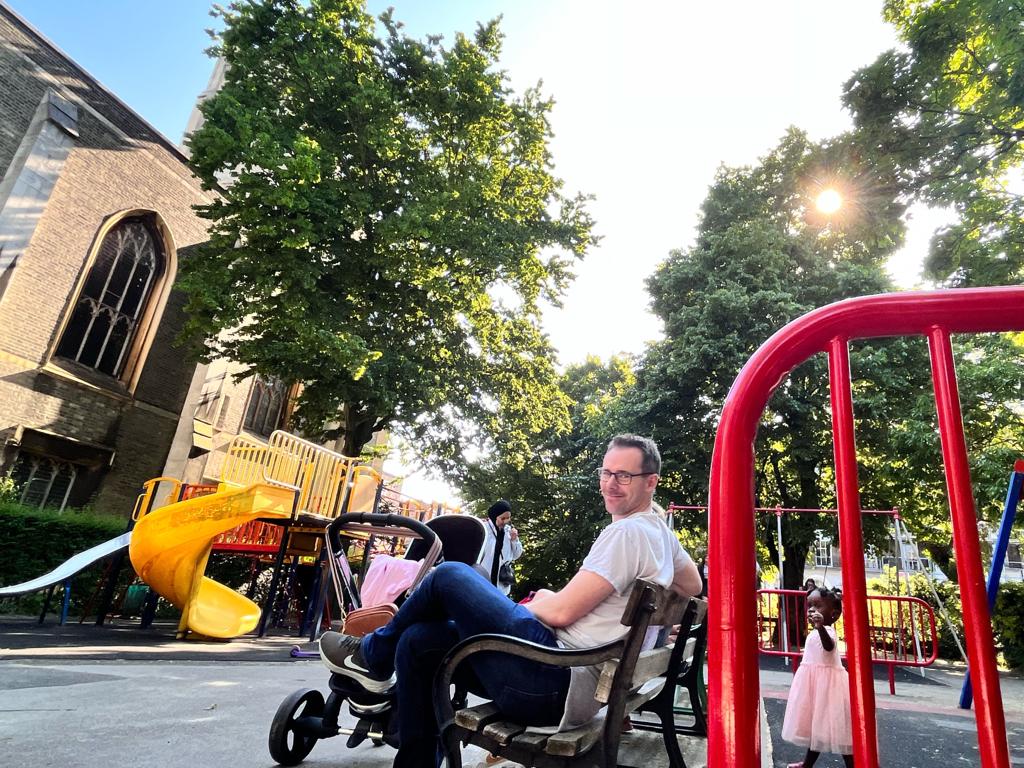 It was one of the first family outings after Jessica's younger sister, Zoe, who is now four months old, was born.
Her father, Mark, 45, is in the picture, sitting on the bench and smiling at the camera.
Mrs Jackson, a mother of six, said: "I really like the photo, particularly the angle she took because she is very little, it's quite curious.
"And you have the red of the fence and the yellow of the slide and the green of the trees and the bright sunlight in the picture.
"There was just something very playful about it, to capture that moment and have enjoyment of it."
Mrs Jackson didn't expect the picture to win but was surprised when the family were invited to the announcement of the winners at the Bindery, an event space that was converted into a gallery.
She said: "We weren't expecting that she would win anything but it was a real privilege that her photo was even part of the exhibition.
"Jessica spotted her photo on the wall – her arms shot up and she jumped up and down and became very excited.
"She was really, really delighted with that, and also just enjoyed looking at all the other photos."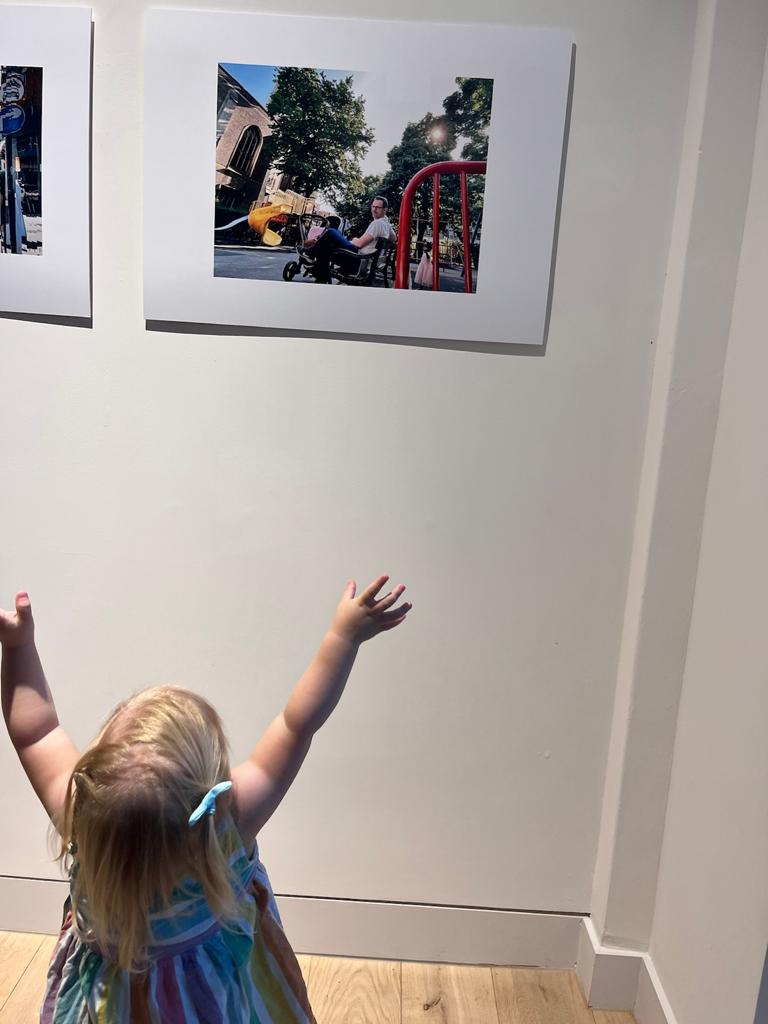 When Jessica was told that she won the Peel Prize "Community" she didn't understand at first, but after her parents explained she was excited.
Mrs Jackson said: "It has given her even more enthusiasm for taking photos.
"I don't think she particularly cares that she won, she is just excited that she can see the image she really liked again, and that other people can see it as well."
Jessica, who only turned two last month, taught herself taking pictures on her mother's phone.
"She just really enjoys going around the house or when we're out, seeing something and wanting to take a picture," Mrs Jackson said.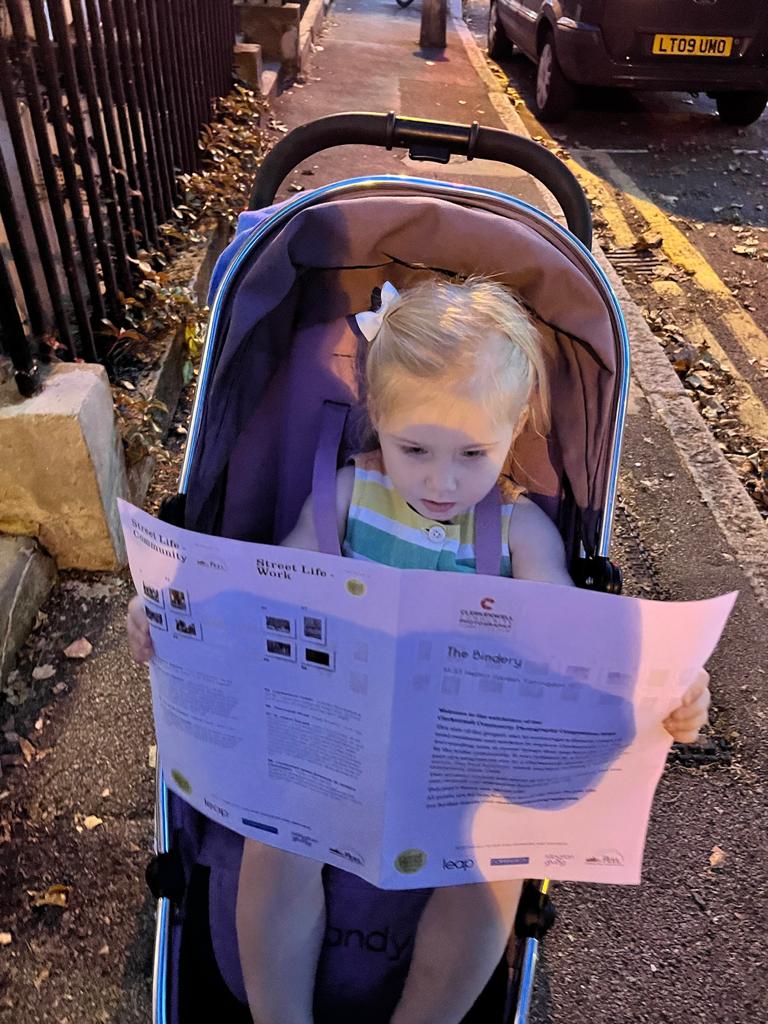 "Initially I thought it was just a random thing, but she is actually taking some really good shots of various people.
"I have a friend and her favourite photos of her and her baby are the ones that Jessica has taken of them."
The Jacksons have lived in Clerkenwell for ten years and are very involved in the community, not least because Mr Jackson is the vicar of St James's Church on Clerkenwell Green.
Mrs Jackson, who is director of counselling at All Soul's Langham Place in Marylebone, said: "We love the diversity of Clerkenwell and we love being central.
"We love the fact that there's people from all countries and all walks of life just mixing together.
"It's exciting and a learning opportunity for our kids, and something we're really passionate about."
Jessica enjoys walking around the area and taking pictures of the things she notices, Mrs Jackson said.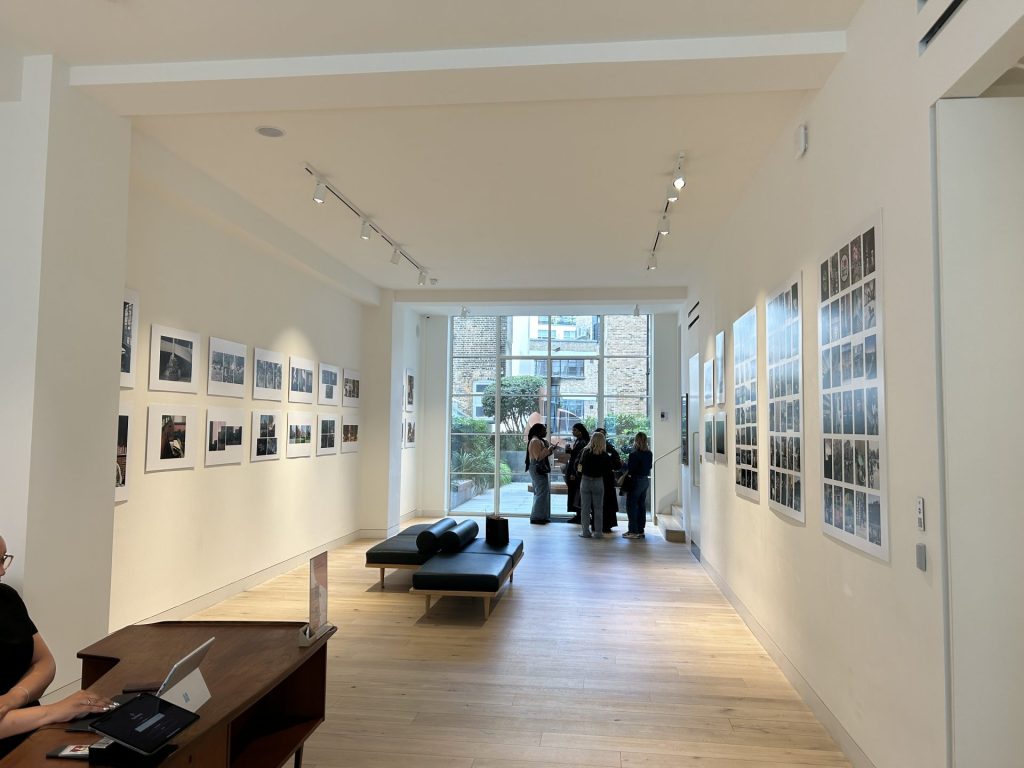 "She notices small things, like people's door colour and flowers and cracks in the pavement," she added.
"She has this curiosity about her. That's probably the thing she most enjoys – even more than going to the playground or any other activity."
The exhibition runs until Friday October 13 at the Bindery, 51-53 Hatton Garden, EC1N 8HN
Featured image: Jessica at the exhibition. Copyright: Joanna Jackson