International Women's Day 2022 hopes to make the world into a place without bias, stereotypes and discrimination.
This is the 111th International Women's Day, with the first being celebrated in Germany, Austria, Denmark and Switzerland in 1911 before being adopted and made official by the United Nations in 1975.
In line with this year's theme, to symbolise the breaking of the bias whether that be deliberate or unconsciously, they are launching the #breakthebias pose.
Given the global significance of this day, many charities and companies align themselves with the day such as Womankind Worldwide & Women in Sport.
Below are details of the amazing work they do and how you can get involved and help.
Womankind Worldwide
Womankind Worldwide focus on supporting women's rights movements and organisations across the globe by supplying resources to challenge oppression across all facets of life.
Working with their partners in countries such as Kenya, Ethiopia, Nepal, Uganda and Zimbabwe, they aim to end violence against women and strengthen women's participation and leadership by advocating changes in law and policy.
Working alongside Ethiopian Women with Disabilities National Association (EWDNA), they are focusing on the issues affecting women's and girls surrounding disability and are working to build skills and opportunities to include the, into society.
Firehiwot, a 21-year-old girl joined the EWDNA thinking that no one could relate to her experience, instead she found a community and now inspires other women to come forward and share their experiences.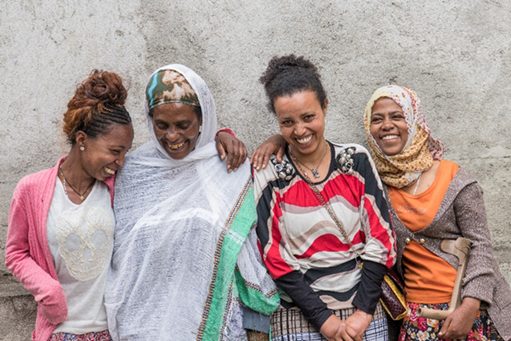 She said: "Women with disabilities in the community face a lot of problems.
"They could be raped or physically abused, or someone could take advantage of them or make them work more.
"The EWDNA stands for women, they bring up those who fall and I would not be at this stage without them."
In South Asia, the Feminist Dalit Organisation (FEDO), founded in 1994 by a group of oppressed women are driving a movement to fight caste and gender discrimination to construct an equal society.
Mayawati faced discrimination even within her own family but after working with FEDO, found how important and powerful her voice is in changing her community for the better.
To help Womankind Worldwide in their mission, you can:
Make connections – Share inspirational stories from around the world, people who serve as living proof of what women can achieve when they work together to bring about change. Make connections is an online experience encouraging you to explore grassroots women working to change the world.
Take on the #ConnectionsCount steps challenge.
Women in Sport
As the name would suggest, Women in Sport are focused on breaking down gender inequalities through sport and their understanding of the needs and aspirations of women and girls at each life stage.
Founded in 1984 with the vision of excluding no one from the joy, fulfilment and benefits of sport, they believe that inclusive sport can help tackle social and economical inequalities in society.
In a study carried out by Women in Sport, the Reframing Sport for Teenage Girls insight showed that more than one million girls were becoming disengaged with sport in their teenage years.
The survey found of the 4000 teenagers interviewed, 68% feared being judged by others, 61% lacked confidence and 43% did not feel safe outside culminating in what Women in Sport believe to be "The Missed Generation".
The report noted at this time in their lives, teenage girls are experiencing an increase in mental health issues relating to loneliness and anxiety only amplified by the COVID-19 pandemic.
Women in Sport CEO Stephanie Hilbourne OBE strongly believes that physical activity can have profound benefits for mental health and development.
She said: "It's an absolute travesty that teenage girls are being pushed out of sport at such a scale.
"We must bust the myth that girls drop out of sport simply due to changes in their priorities.
"Our research shows that 59% of teenage girls who used to be sporty are being failed due to early year stereotyping, inadequate opportunities and a complete dearth of knowledge about managing female puberty."
Working alongside sporting role models such as four-time Olympic medalist and charity patron Rebecca Adlington OBE, they hope to re-engage young women and break the stereotypes around women in sport.
Featured image courtesy of International Women's Day