The number of officers in the Metropolitan Police who identify as LGBT+ is at its lowest point in years.
A Freedom of Information request revealed that the number of Met officers who identify as gay, lesbian, bisexual, transgender, transsexual or intersex has reduced by 11% since 2019, when the Met first began recording sexual minority demographics of its officers.
In 2019, 1069 of the Met's 29,978-strong police force identified as LGBT+, but in recent years a steady decline has meant that only 954 LGBT+ officers remain.
This means that LGBT+ officers now make up just 2.8% of the Met Police.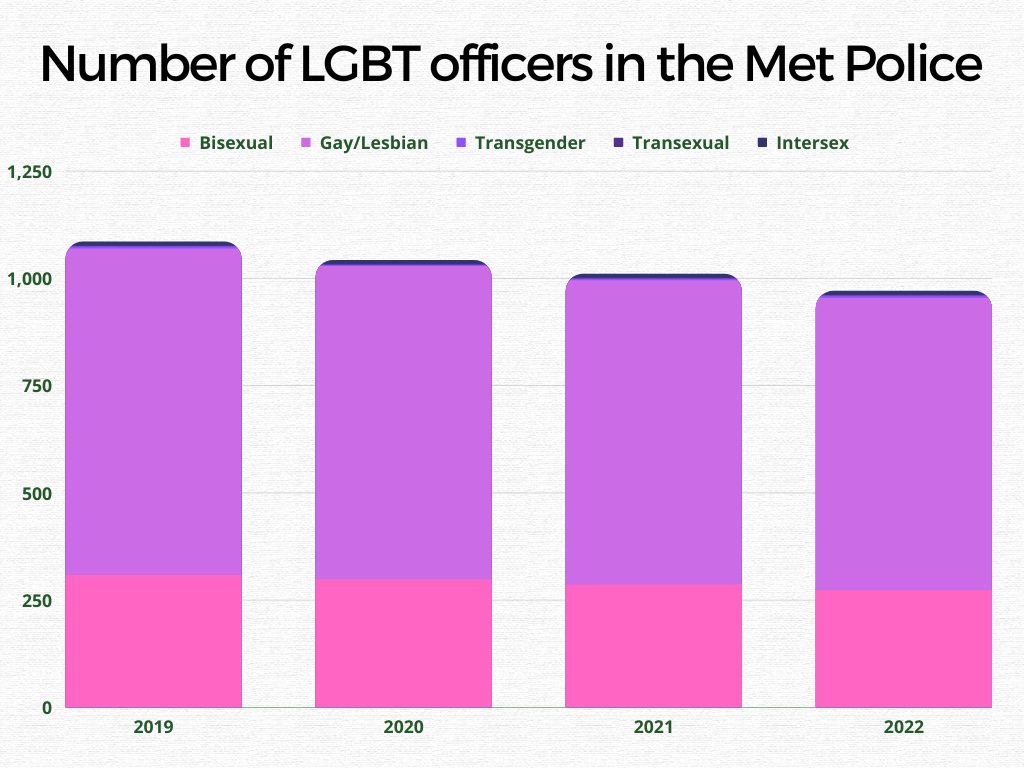 Despite serving London, which has one of the largest LGBT+ populations in Europe, the Met falls behind several other police forces when it comes to LGBT+ representation.
10% of officers in the Sussex police force identify as LGBT+, with six officers identifying as trans- more than the entire Met police, despite the latter being significantly larger in size.
And the Gwent police force recorded that only 91% of its police force was heterosexual, making it one of the least straight forces in the country.
Because officers do not have to record their sexuality or gender identity, these figures may not fully represent the full LGBT+ community within the Met.
In a 2021 Inclusion and Diversity Strategy report, the Met noted several increases in minority representation, particularly in increasing Black and Minority Ethnic (BME) representation on the force.
However, LGBT+ representation stood out as an area where progress was difficult to make.
The report admitted that "we do not make it mandatory for our workforce to self-declare about impairments or whether they are LGBT+, so we do not realistically know if these aspects of diversity have increased under this programme."
In the same report, the Met pledged to "improve victim satisfaction amongst all communities, in particular young victims and victims from the BME, disabled and LGBT communities."
A spokesperson for the Met said: "To help keep people in London safe our workforce needs to be diverse, like the communities we serve.
"We are proud of the Met's LGBT+ police officers and staff who work hard to fight crime in the Capital every day, and we want to be the employer of choice for LGBT+ people who choose a career in policing.
"The ways we seek to support, retain and recruit LGBT+ colleagues include working with the Met's LGBT+ Network, which aims to improve the experiences and conditions of current and future staff in a range of ways, including providing advice, supporting individuals' career development and progression, and working with senior leaders to tackle key issues impacting colleagues, such as fairness, discrimination and mental health.
"We are determined to root out the corrupting minority of individuals in the Met, and there are numerous ways colleagues can report unacceptable behaviour, including anonymously. We celebrate our LGBT+ colleagues by highlighting their achievements and recognising their lived experiences in a range of ways inside and outside the Met, including holding awareness events, supporting their participation in London Pride and publishing blogs written by officers on our news website."
A spokesperson for the Mayor of London said: "The Mayor is committed to working with the Commissioner, Sir Mark Rowley to increase the diversity of the Met at every rank and to make the police more representative of all the communities it serves.
"As work continues to reform the culture of the Met and rebuild public confidence and trust, the Mayor is encouraging people from all backgrounds and communities – particularly those which are under-represented – to be the change they want to see by applying to join the service and becoming part of building a safer London for everyone."
Another report carried out in October found that the Met Police had mishandled accusations of homophobia and sexual misconduct.
Met Police commissioner Sir Mark Rowley said the findings showed hundreds of his officers should have been sacked.
In the report, by Baroness Louise Casey, it revealed an example of one officer who faced 11 misconduct notices for allegations involving assault, sexual harassment and fraud.
She has branded the current system as "not fit for purpose" and said the report "has to be a line in the sand moment."
Featured image credit: Fungai Tichawangana from Pixabay