Havering has elected a council with no overall control with one ward's counting now postponed until Monday .
A second recount is being held for Rainham & Wennington ward, which three Conservative councillors are expected to win, at 6pm on Monday in Romford Town Hall.
Until those results are known the future of the council is uncertain, with the Havering Residents' Association group having 23 seats but needing 30 for a majority.
The Conservatives have 19 seats and Labour nine seats, meaning the most likely outcome will be a HRA coalition with Labour.
Gillian Ford, chair of the Havering Residents Association, said: "It's looking like it's going to the Conservatives that win the remaining ward.
"Even if they do win, they won't have enough seats to form a majority administration and don't appear to have allies willing to form a coalition.
"We have options they don't have."
A disagreement has become heated at the Havering count.#LocalElections2022 #LondonersVote2022 pic.twitter.com/5lMYQGreeu

— Nick Ogris (@nickogris) May 6, 2022
This the first election since a boundary change which was mired in controversy when Conservative councillor Bob Perry secretly recorded a meeting where members discussed gerrymandering the borough in the Conservative party's favour.
A panel hearing led to the complaints being dismissed against the advice of experts.
Damian White, leader of the Havering Conservatives, who was re-elected, said: "The boundaries are stronger because they represent communities.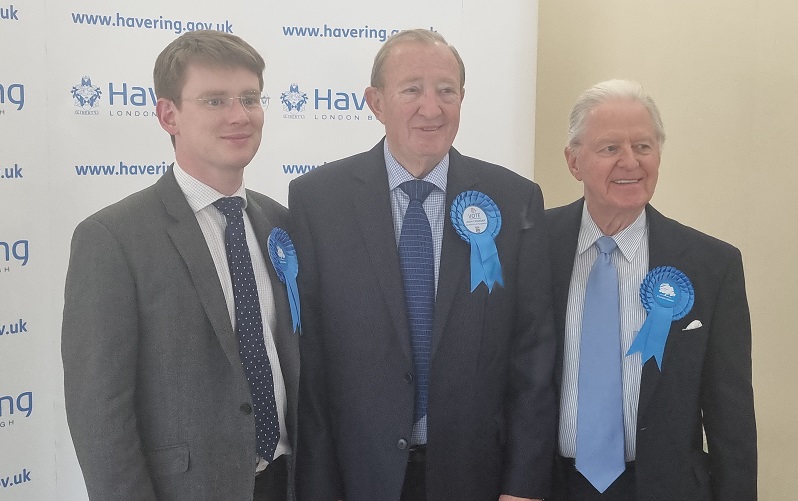 "People have a lot of trust in our organisation because we are stronger together."
He said that he wasn't concerned about Partygate and the impact recent controversies surrounding the Conservative party might have.
He said they had great strength in their connection to the national Conservative party because they are held to a higher standard than local residents' associations.
White said Boris Johnson had got major issues right and people in local communities are incredibly grateful for his efforts.
John Wood, Hornchurch Residents' Association candidate for Hylands and Harrow Lodge, said: "The present administration have got too complacent.
"They do what they want and don't listen to the local residents."
Havering is notable for having a traditionally strong representation from local residents' associations.
Councillor and Mayor of Havering, John Mylod, Conservative, lost his seat but will remain mayor until the AGM.
Feature image of Havering Residents' Association candidates