Residents of the East End reflected on the legendary Battle of Cable Street on its anniversary today.
Today marks 87 years since Oswald Mosley and the British Union of Fascists gathered to march down Cable Street, a largely Jewish-populated area.
Though they had up to 5,000 members marching and were accompanied by approximately 6,000 Metropolitan Police officers, local residents turned out in droves to battle the fascists out of their neighbourhood with bricks, sticks, and other improvised weapons such as marbles used to fell police horses.
The anti-fascist demonstrators were largely composed of British Jews, Irish immigrants, and local trade unionists who formed barricades and shouted slogans like "¡No Pasaran!" (They shall not pass!), a rallying cry from the Spanish Civil War against fascism.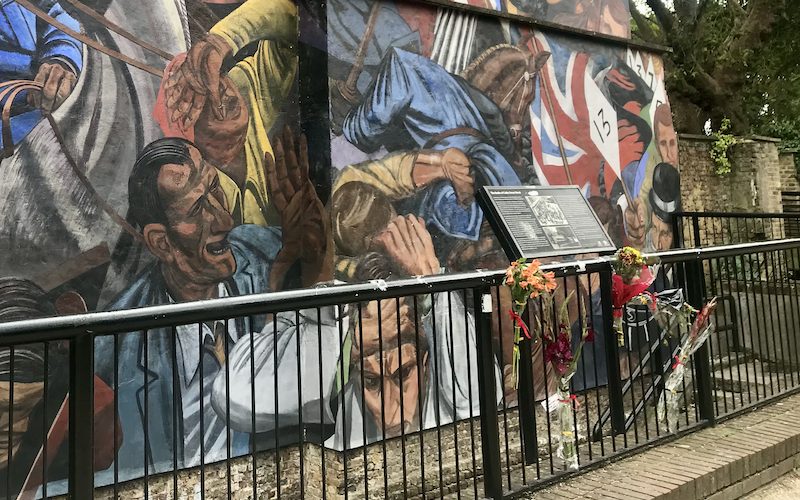 William Edmonds, 41, travelled from Manchester to pay his respects at the site where his grandfather fought against the British Union of Fascists.
He said: "My grandad wasn't Jewish, or Irish.
"He was just someone who knew right from wrong, and wanted to protect his neighbours against harassment and prejudice.
"I see politicians right now talking about how immigrants don't belong here, and I can't help but think, 'are we talking about the same country?'"
One local politician took to social media to share a similar viewpoint to Edmonds.
Labour MP of Poplar and Limehouse Apsana Begum honoured the Battle of Cable Street in a series of tweets referring to the need to still be tireless in the fight against facism and other forms of bigotry.
87 years ago today, the British Union of Fascists led by Oswald Mosely tried to march through the largely Jewish East End of London.

They were marched off by as many as 20,000 people of Jewish, Irish and working-class backgrounds, in what is known as the Battle of Cable Street. pic.twitter.com/AE6zeqYKmp

— Apsana Begum MP (@ApsanaBegumMP) October 4, 2023
The legacy of the Battle of Cable Street was especially impactful for Shadwell resident Emily Meyer, 24, given what she described as a rising wave of xenophobic and anti-semitic politics in England.
Meyer said: "This was a very important moment for Jews in London- it was such a loud show of support from the community and a display of our strength against oppression."
"It just goes to show that England has always had beautiful, diverse communities, and that we find strength in those communities."
"No one is going to take our history, or our future, away from us."