Electric car drivers could save a whopping £1,555 per year on energy bills that Martin Lewis this morning predicted will soar by 83% – by using free public chargers.
The majority of electric car drivers choose to top up their battery from home each day, which prior to the price cap rise cost around £2.33 to cover a 20-mile journey.
But figures predicted by money-saving guru Martin Lewis, means the average UK electric price per kWh from October 1st will soar by 83% from 28.3p to 51.8p.
This means that drivers will have to shell out around £4.26 each day – costing around £1,555 per year.
In the light of the soaring costs, a study by car dealership group, Robins and Day by Stellantis &You UK, revealed some hacks that could help slash fuel prices for drivers.
Super-savvy drivers could bag the most savings by tracking down free public chargers.
Zap Map estimates that around 18% of all public chargers are free to use, with Scotland leading the way with many located at supermarkets and in public car parks.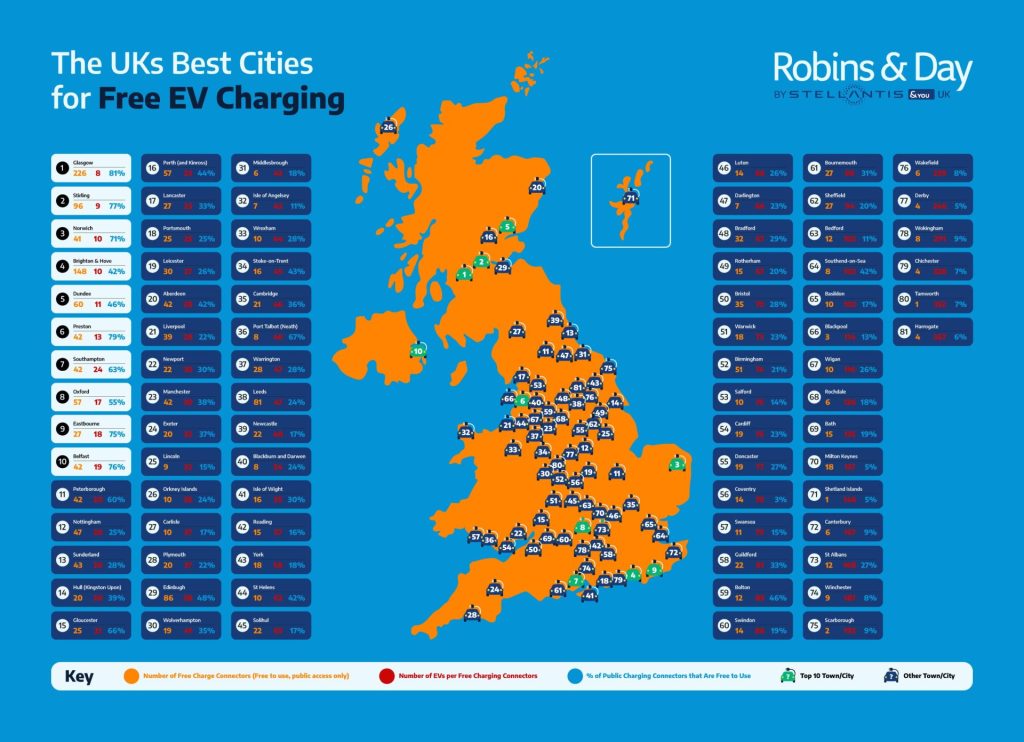 Most (83%) free connectors are reported to be 'fast' which means they can add around 7-15 miles' worth of power in a 15-minute charging session (or around 30 miles in an hour).
While topping up for free every day may not be realistic for many, those that do manage this could save a whopping £1,555 a year, when compared with at-home charging costs on a standard electricity tariff.
Those unable to rely on free charging, or prefer to top-up at home, can save cash by switching to an 'EV tariff' or an 'off-peak' one.
Research showed that many supermarkets offer some of the lowest priced public charging available.
Before the price cap rise it typically cost 23p per kWh at Lidl which worked out at around £1.92 per day – 18% less (41p) than charging up at home on a standard tariff.
Over a year, opting to power up while doing the weekly shop could mean drivers pocket an estimated saving of around £150.
On the flip-side, less cost-effective options include residential charging on streets and plugging in at service stations.
The study also compared the latest data on registered electric cars per town and city, with figures from Zap Map on the number of public connectors and free-to-use connectors.
Glasgow was found to be the easiest place for local electric car drivers to power up close to their homes, as there are estimated to be just eight electric cars per free charger.
Overall, more than 80% of all the public chargers in Glasgow are reported to be free to use.
Chief Executive at Robins and Day by Stellantis &You UK, James Weston, said: "We're experiencing continued demand for EVs online and at each of our UK locations with around one in four new orders being electric.
"A key consideration for our customers is how and where they'll charge their vehicle.
"As the number of charge points increases, so does confidence, and electric vehicles become even more accessible.
"The reduced running costs of an electric car has an impact on purchase decisions, not just in terms of fuel but other benefits such as zero road tax, especially as we see household bills rising.
"We want to support customers when they're ready to make the switch or have a conversation to understand their options.
"We recently relaunched our website and have added new tools, such as our electric quiz, to assist people.
"There's also dedicated electric vehicle content."
For more information about this research please visit: https://www.robinsandday.co.uk/news-hub/power-up-for-pennies
TOP 20 PLACES WITH THE MOST FREE CHARGE POINTS
Glasgow (81%)
Preston (79%)
Stirling (77%)
Belfast (76%)
Eastbourne (75%)
Norwich (71%)
Port Talbot (67%)
Gloucester (66%)
Southampton (63%)
Peterborough (60%)
Oxford (55%)
Edinburgh (48%)
Bolton (46%) and Dundee (46%)
Perth (44%)
Stoke-On-Trent (43%)
Brighton & Hove (42%) and Southend-On-Sea (42%) and Aberdeen (42%) and St Helens (42%)
Hull (39%)
Manchester (38%)
Exeter (37%)
Cambridge (36%)
(Main photo credit: Andrew Roberts)