Slowly, cautiously and with great reverence, the late Queen Elizabeth made her last great journey across the land she loved most.
There was no place where she felt more at home than Scotland, no place she was happier than on her beloved Balmoral estate.
She wasn't the original Queen of Scots, but she was certainly the most authentic – with thousands lining the route as the Queen's funeral cortege made a six-hour journey from Aberdeen to Edinburgh.
All along the route crowds lined the streets – by the time the cortege arrived in the Scottish capital, they were ten deep, some throwing flowers in the path of the slow-moving hearse.
The Queen, her coffin wrapped in the Royal Standard of Scotland with a wreath of her favourite flowers from the Balmoral estate, will now rest in the Palace of Holyroodhouse's throne room overnight.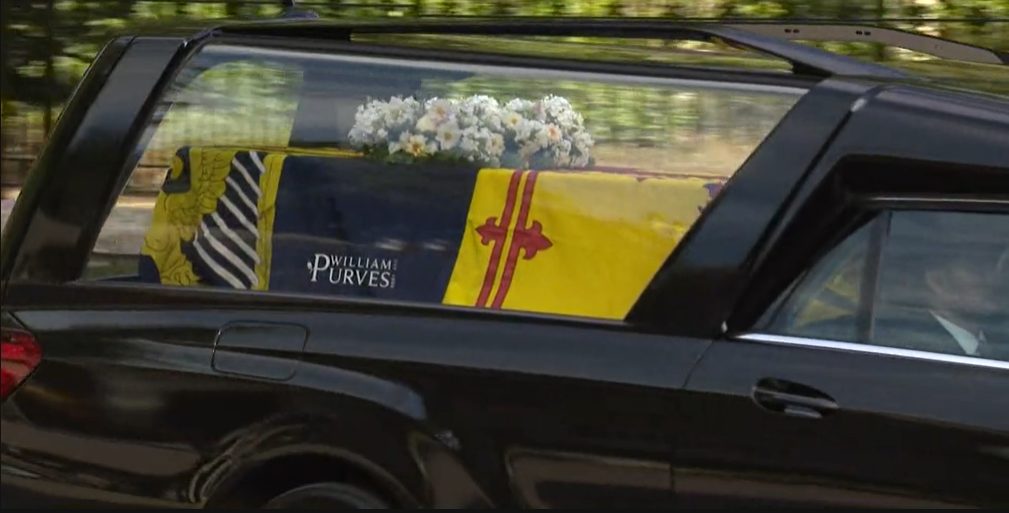 Her coffin was taken into the palace as three of her children, Princess Anne, Prince Andrew and Prince Edward, looked on, the Princess Royal curtsying as she passed.
On Monday, the coffin will be taken back up the Royal Mile for a service at St. Giles' Cathedral, where it will then lie in state for 24 hours to allow people to pay their respects, starting at 5pm on Monday.
Meanwhile, the new King continued to juggle the weight of his new responsibilities as head of state, with his personal grief following the loss of his mother.
In his new role as the Head of the Commonwealth, the King met with the organisation's Secretary General and High Commissioners at Buckingham Palace, just hours after Australia's prime minister confirmed he would not be holding a referendum on independence during his first term of office.
Later, he travelled to Windsor for meeting with the Dean of Windsor, who will lead the late Queen's committal service – a private family occasion – at St. George's Chapel.
Images courtesy of BBC News via iPlayer, with thanks